Renowned makeup artist in Noida-Roma Khanna, decodes her favourite bridal look for the season!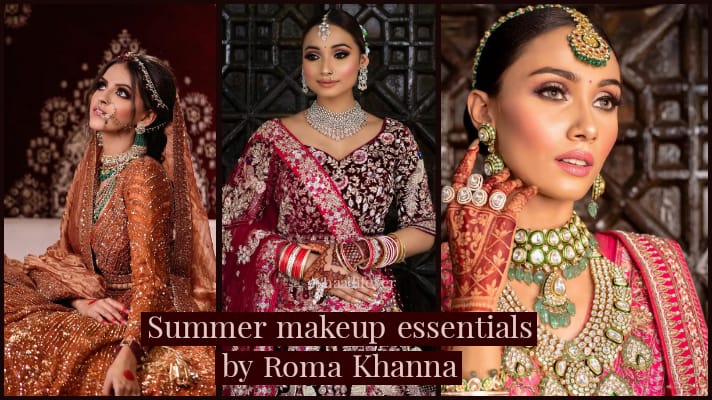 While the grandeur and lavishness of a wedding is the biggest attraction, it's the bride who decides the look and feel of the entire wedding. With minimal makeup being the trend this season, every bride wants to make sure that she looks like a dream on her wedding day. To help you decode the summer makeup trends, Roma Khanna– A lawyer turned makeup artist, certified artist from London College of Makeup, talks about her favourite bridal look for the season.
Roma is a makeup artist in Noida, travels globally to doll up her brides. She started her makeup journey in 2015, she is one of the best makeup artist in Noida. Her love for color and makeup made her give up her law practice. "I did go to the High Court for 6-7 months, but my heart was calling out to pursue my other interest, make-up was my passion," says Roma in one of her interviews.
Much like fashion, makeup trends evolve depending on the season. For instance, winter is all about rich, plum lipstick and a red lip. Roma says,' My Favourite Bridal look for the summer season is blends of peaches and browns with a hint of golden or copper. It's all about opting for light weight, summer appropriate formulas, which will not make you look cakey or patchy. A bride needs to follow CTM ,so a good toner and moisturiser is a must. Add a neutral palette to your bridal trousseau, my pick would be the – too faced born this way palette.'
Also read- Quick & easy makeup and hair looks for bridesmaid's
Things to Keep in Mind for a Summer Bride:
Sharing a piece of advice for brides who are getting married in the summers, here are some tips for bride's to be:
Avoid bold eye colours, which you would not like in person. Chances are that you may dislike them later in your pictures too. It's ideal to follow trends but don't opt for colours you are not comfortable with.
Fresh and clean is the way to go! Opt for minimal makeup and water resistant base for the summer season.
To avoid sweating off your makeup, use a mattifying primer which is long-lasting before applying the base. 
Avoid powder and use setting spray instead to keep your base in place.
Always remember- less is more.
Get Eid ready with Roma!
We have a bonus video for you ladies! Learn from Roma and get festive ready this summer season!
For more interesting content, tune into Shaadifever 's Instagram.