Aashriya and Sehajveer's fusion winter wedding with picturesque decor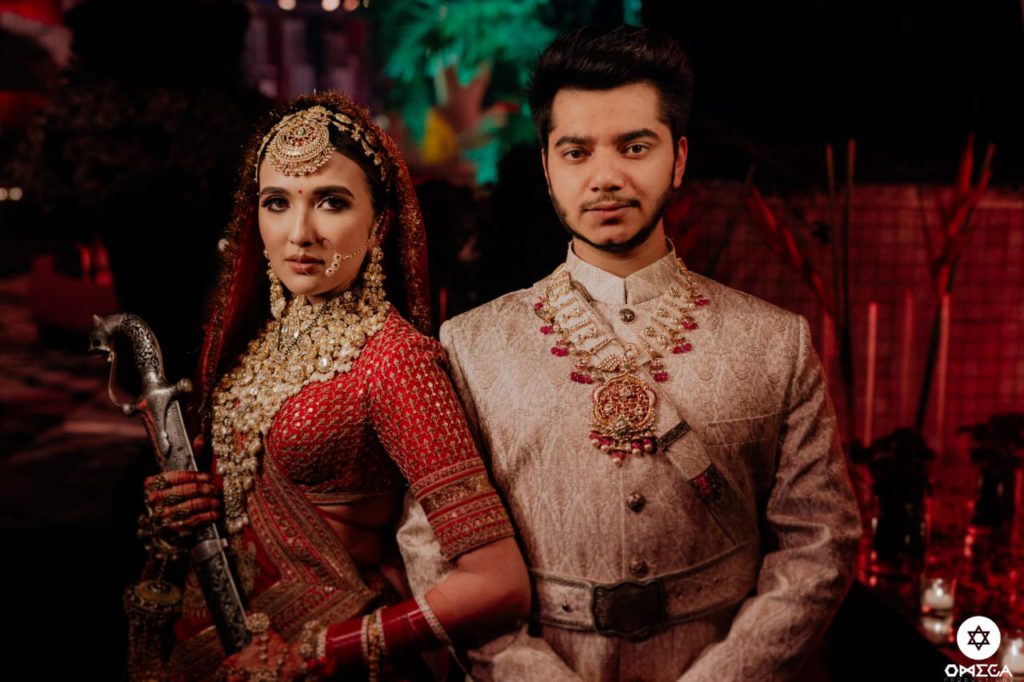 Love a bride who rocks some serious bridal style! Real Bride Aashriya wowed us with her bridal style, and we were amazed with her outfit choices and looks. Be it at the mehendi, Sangeet or the Wedding! Every look was elegant and very different from the other, and Aashriya and Sehajveer's grand Ludhiana wedding is nothing short of a fairytale. A cozy winter wedding with splendid decor and a celebration of their love with their family and friends. If you are looking for some wedding spo for 2023, you should definitely check out this Aashriya and Sehajveer's fusion wedding.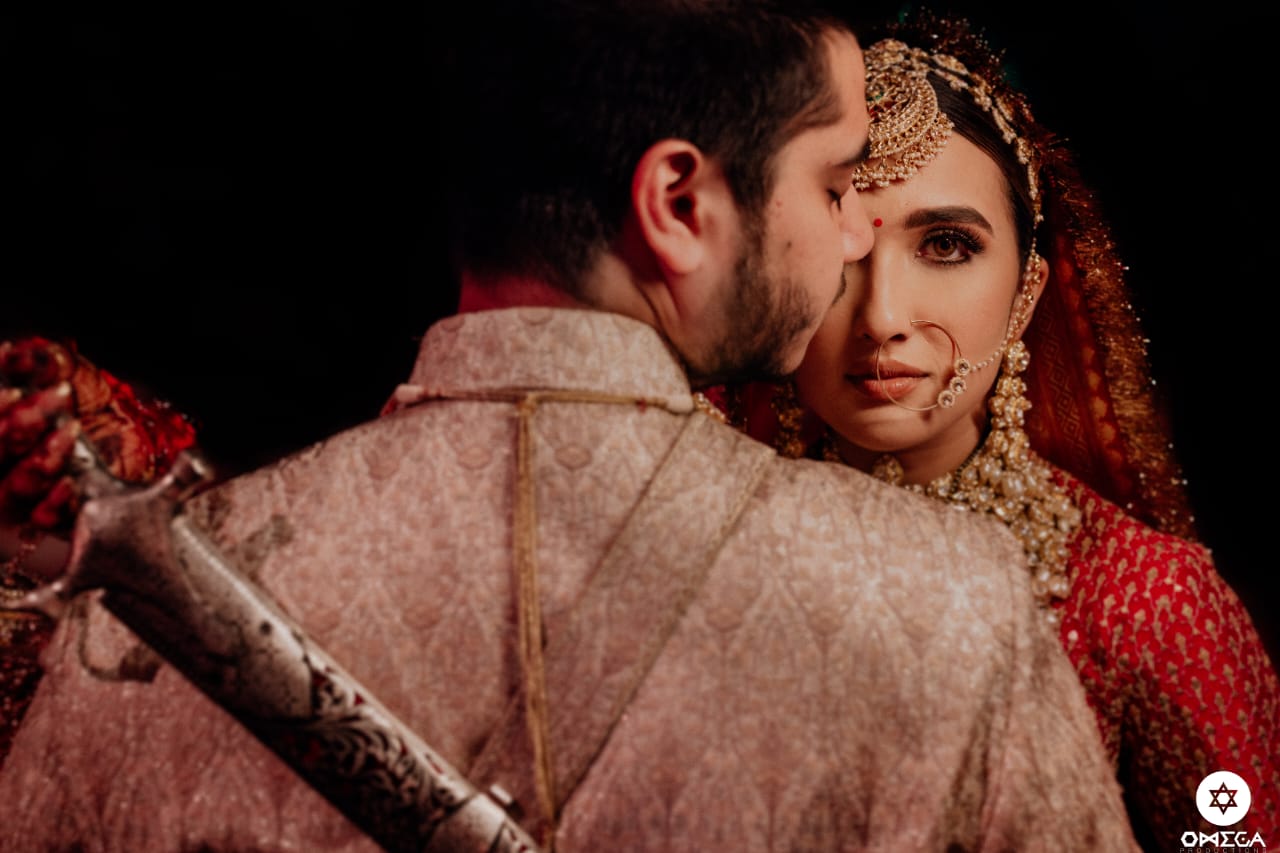 Tap into this wedding and have a look at their unforgettable joyous moments, captured by Omega Productions.
Aashriya and Sehajveer' winter wedding and their love story
How they met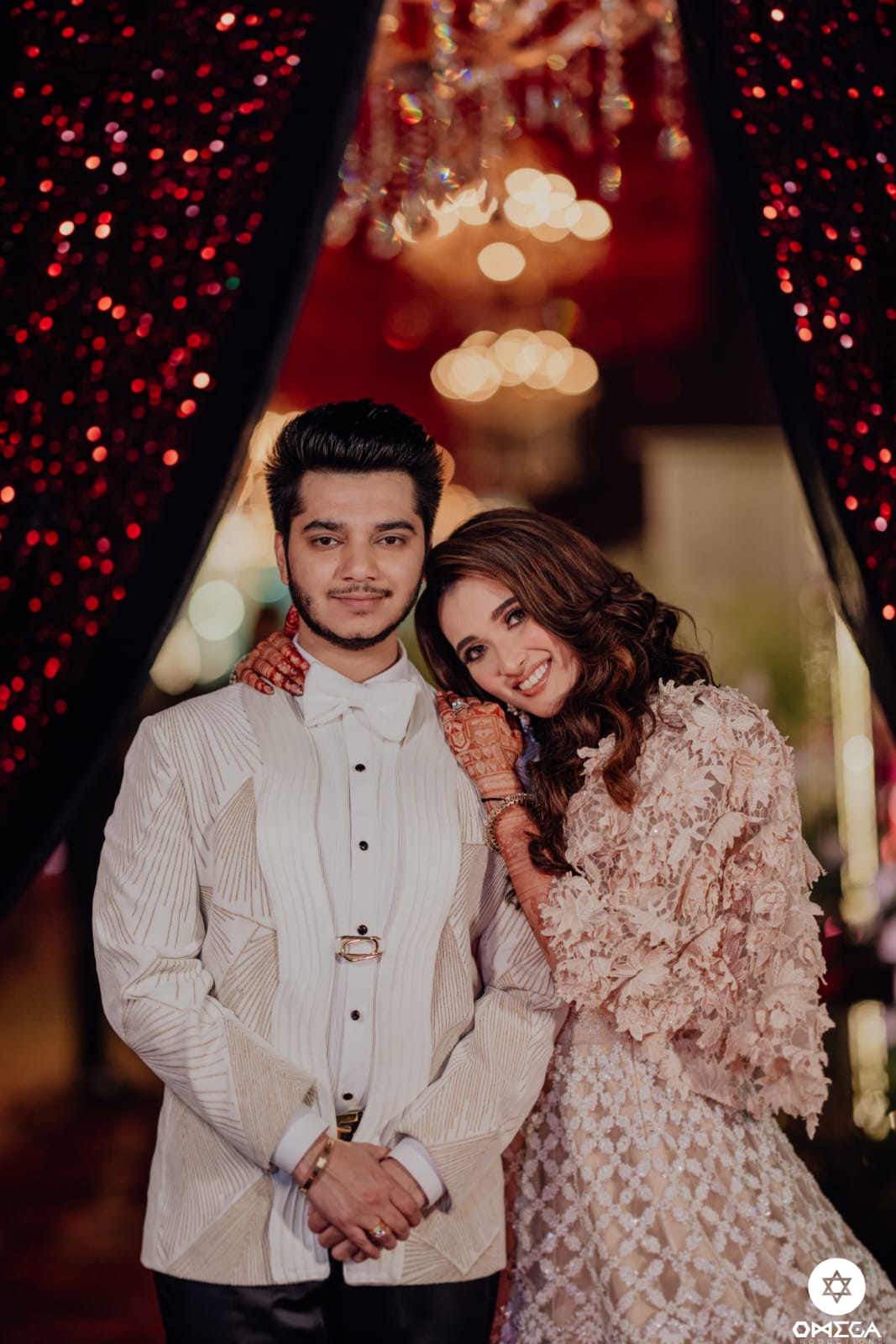 Aashriya shares, "We met in school 12 years ago and coincidently were in the same class since lower kindergarten. However, we actually bonded during 9th grade and soon became best friends. As fate would have it, we ended up pursuing higher studies in the UK. I settled in Warwick for three years for my undergrad course and Sehaj settled in Nottingham, which was just two hours away. Over the years, we managed a long-distance relationship intermittently."
The Grand Surprise Proposal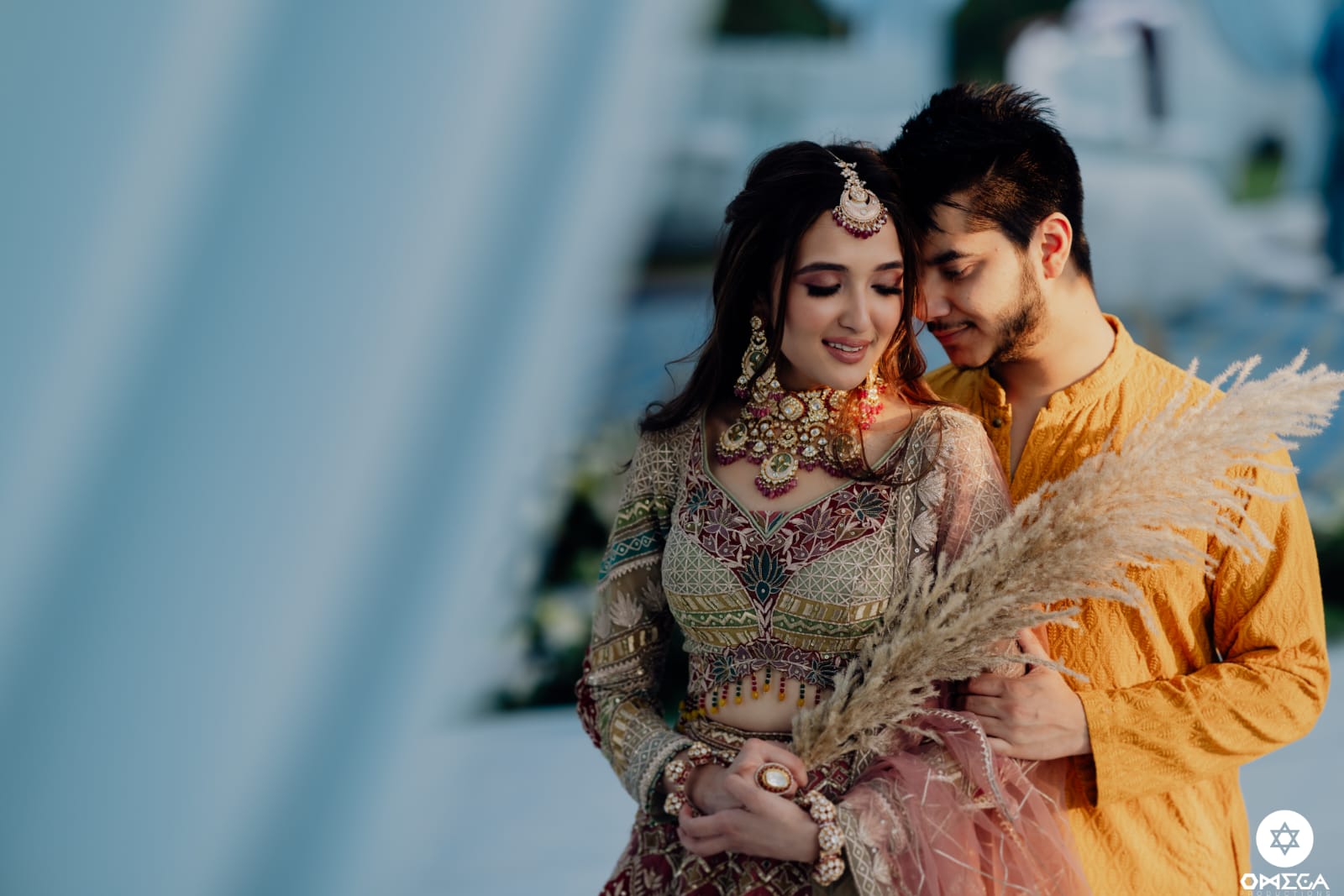 Aashriya shares, "Sehaj popped the big question on his birthday in 2021. I got a knock on my door and it was his driver with a beautiful green dress & a note that said that your future husband is waiting for you. To my surprise, there was a beautiful limo waiting for me and once I stepped in, a laptop played all our past pictures and videos with his voice in playback. I reached a beautiful location with all our friends waiting for us with the question 'Will you marry me?'"
Aashriya and Sehaj's grand Wedding Functions
Sufi Night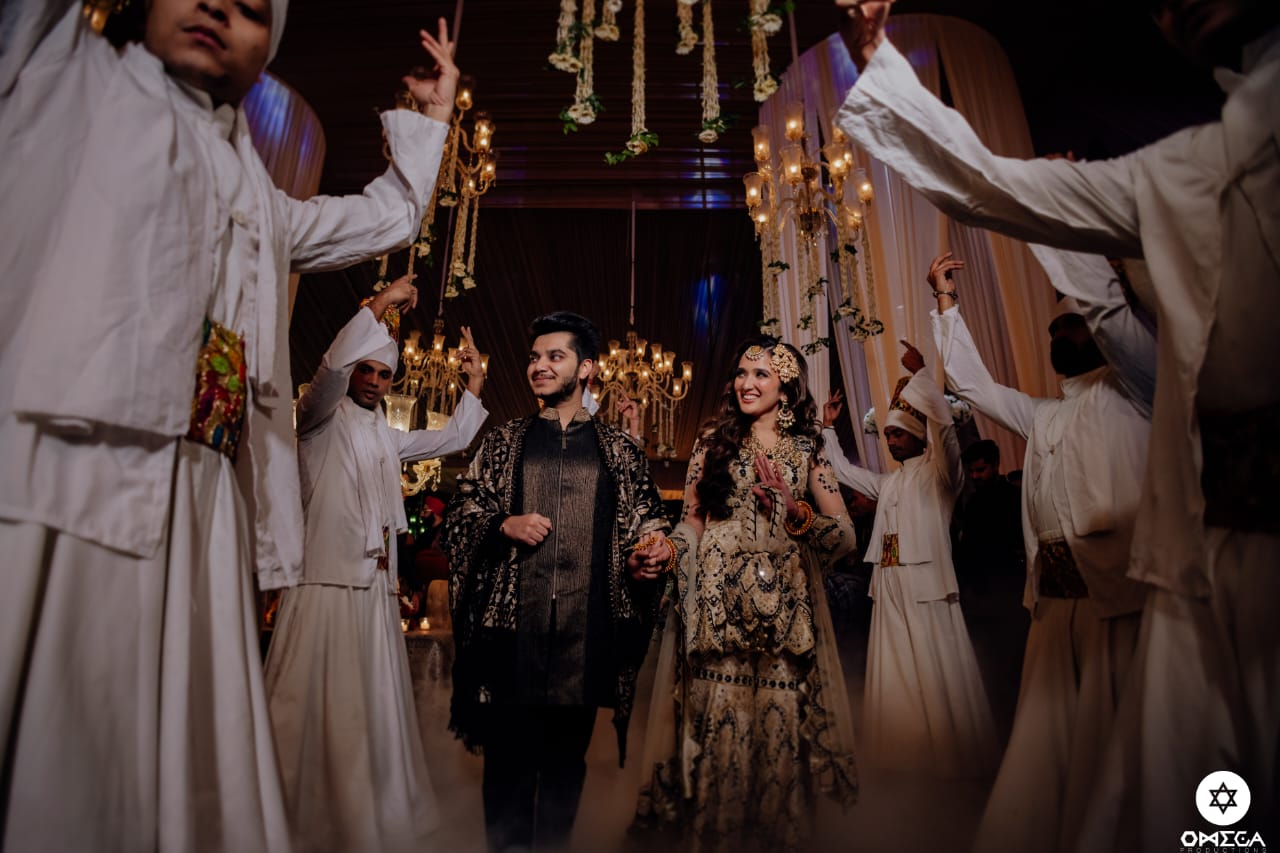 From the fragrance of Mogra to dancing on tunes of Junaid, this function had an element of mystery and glamour. The couple made an entrance with Sufi dancers dressed in Pakistani style outfits.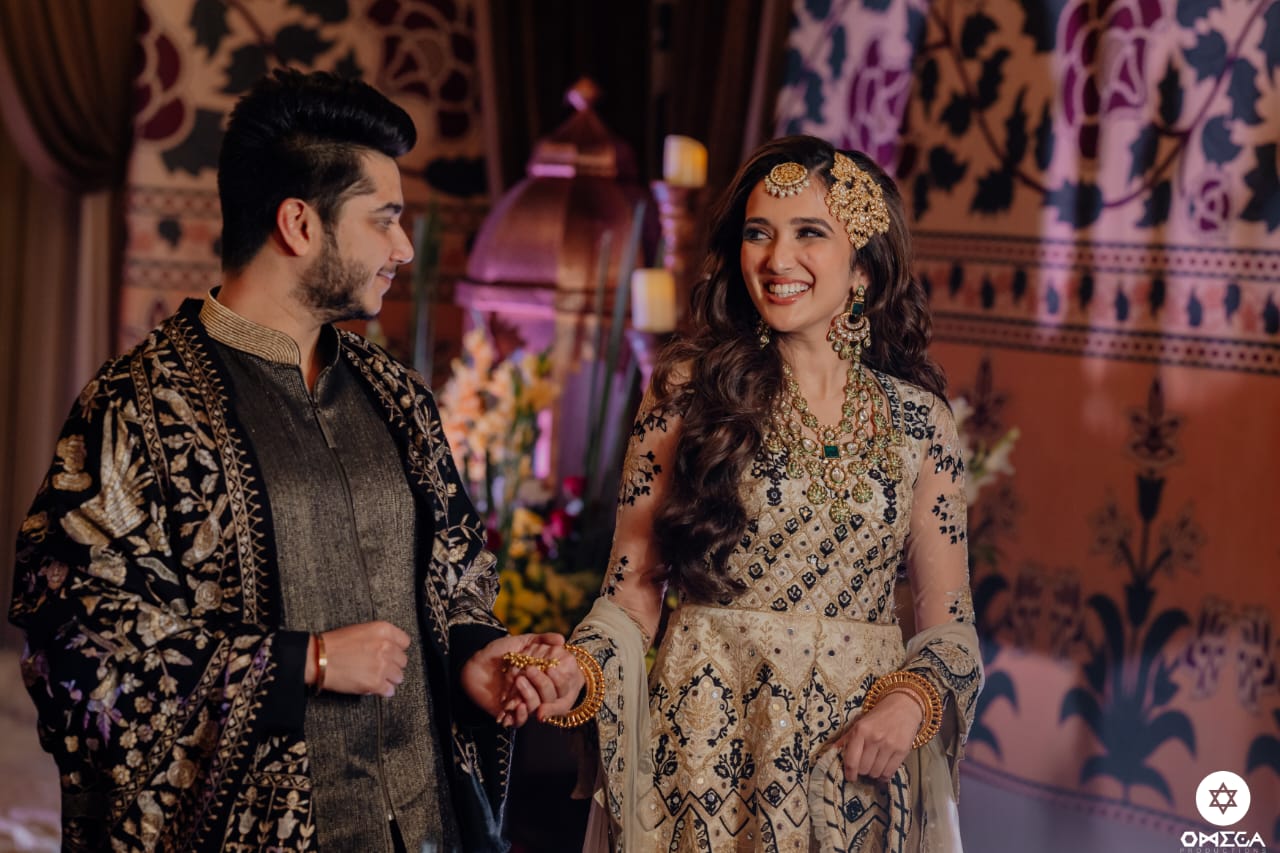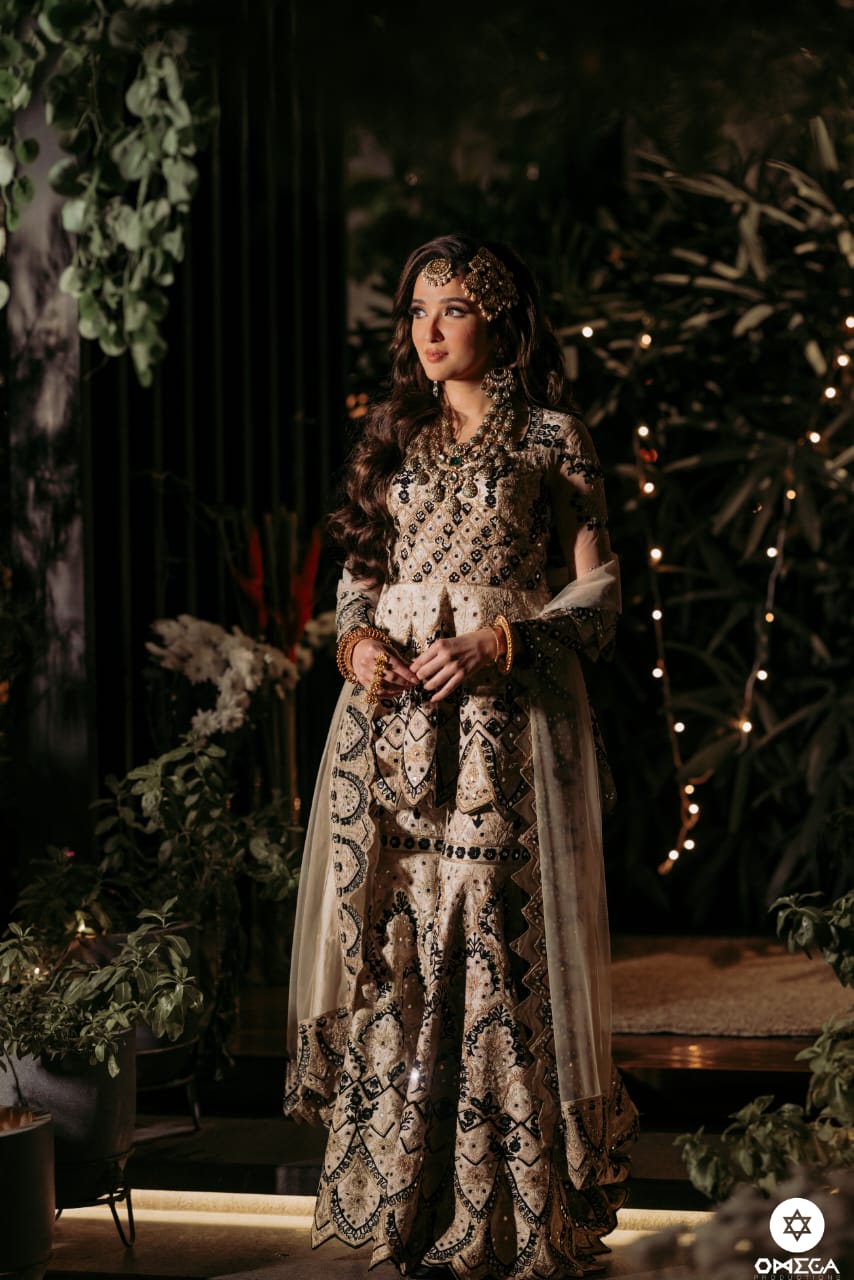 Mehndi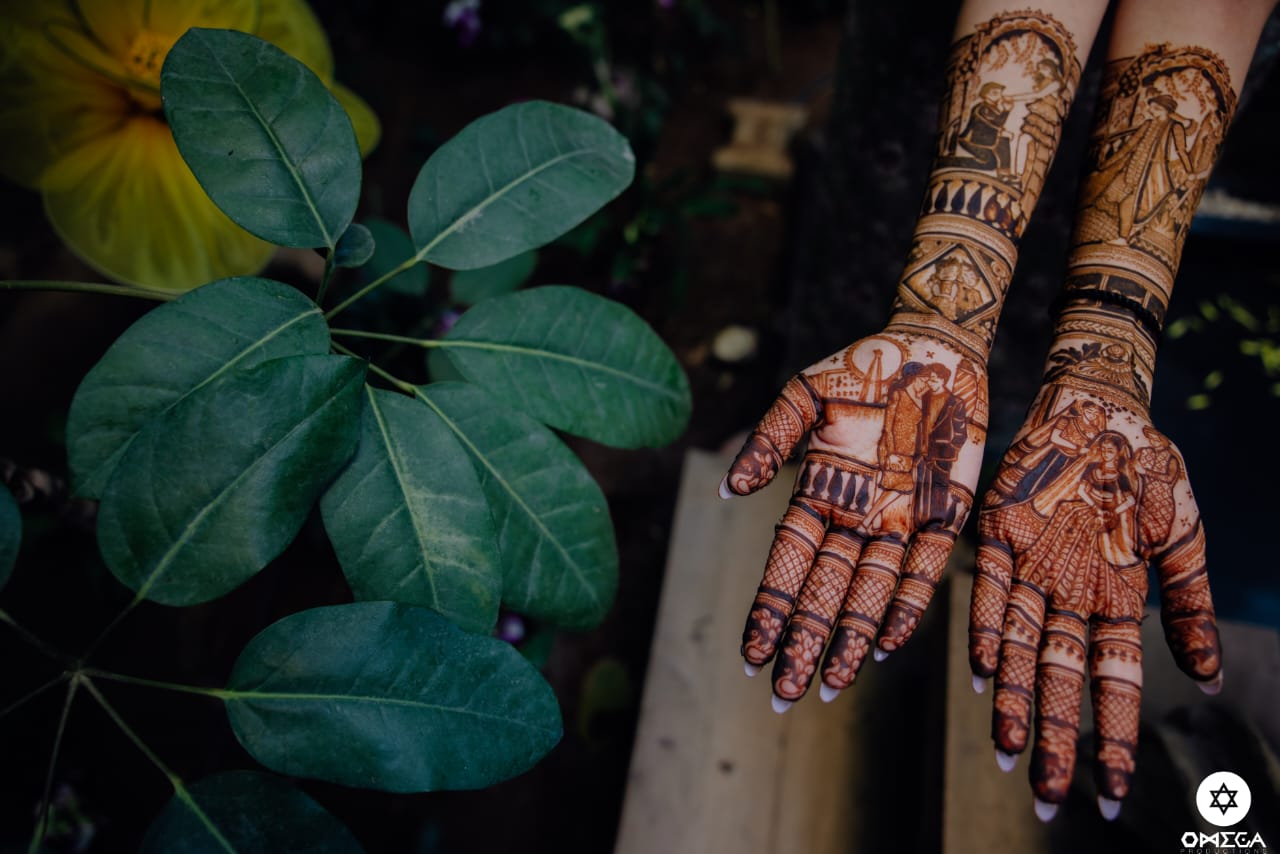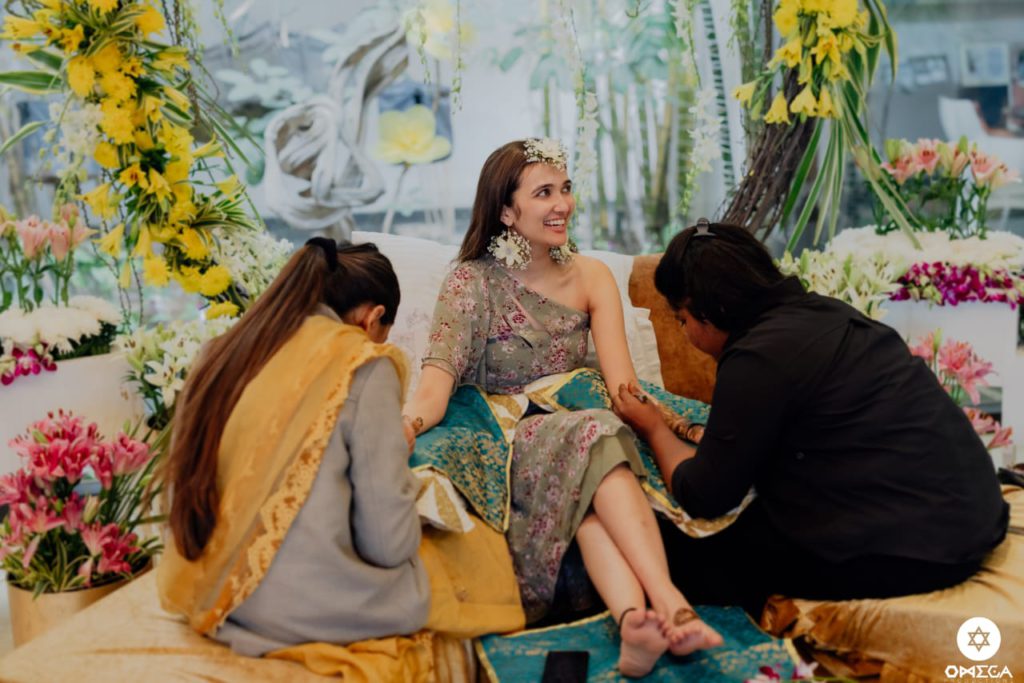 The groom came in on a DJ truck and was welcomed by the gorgeous bride under a phoolon ki chadar. There were many personalised elements in the event, right from the entrance planned in the shape of a book which symbolised the guests entering the couple's fairytale to Aashriya's mehndi design that was a representation of their love story.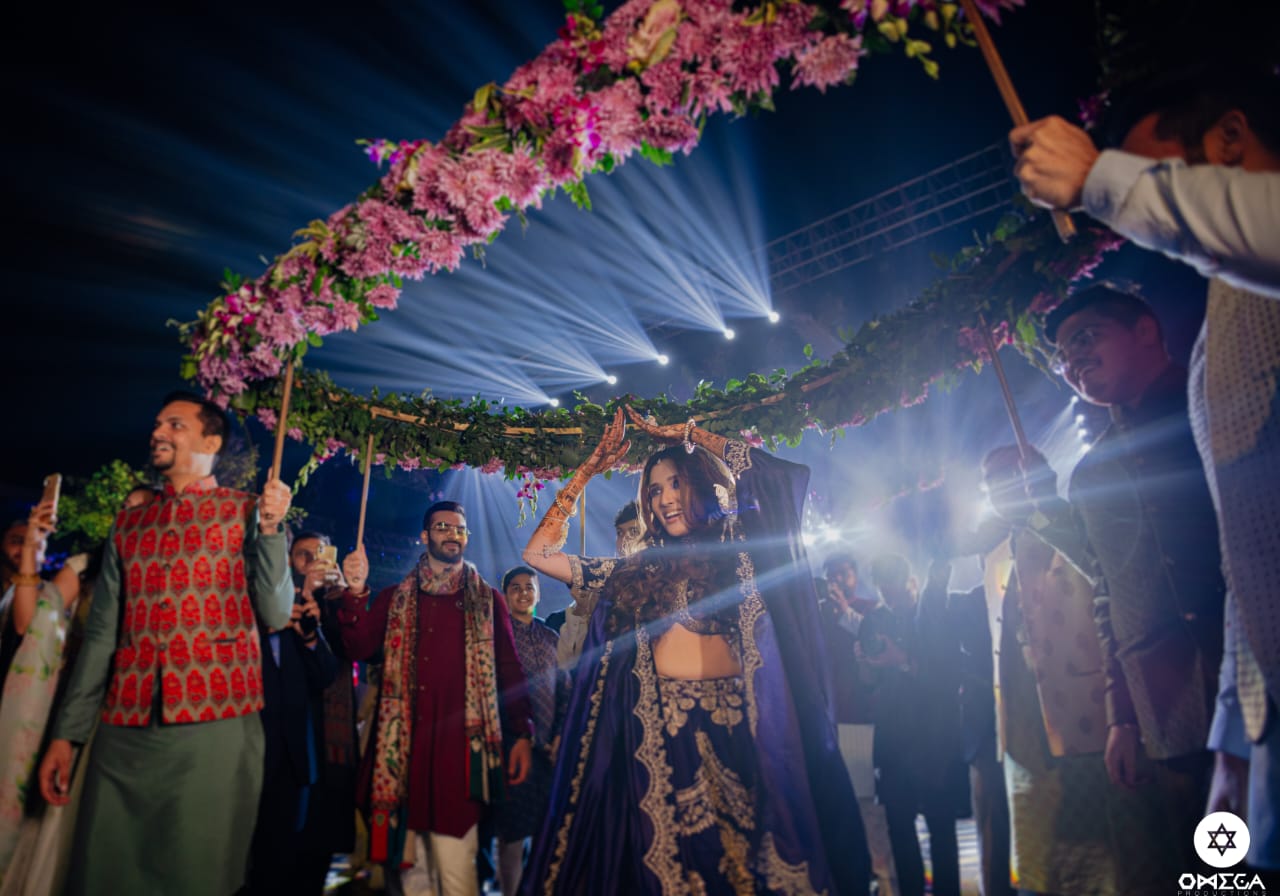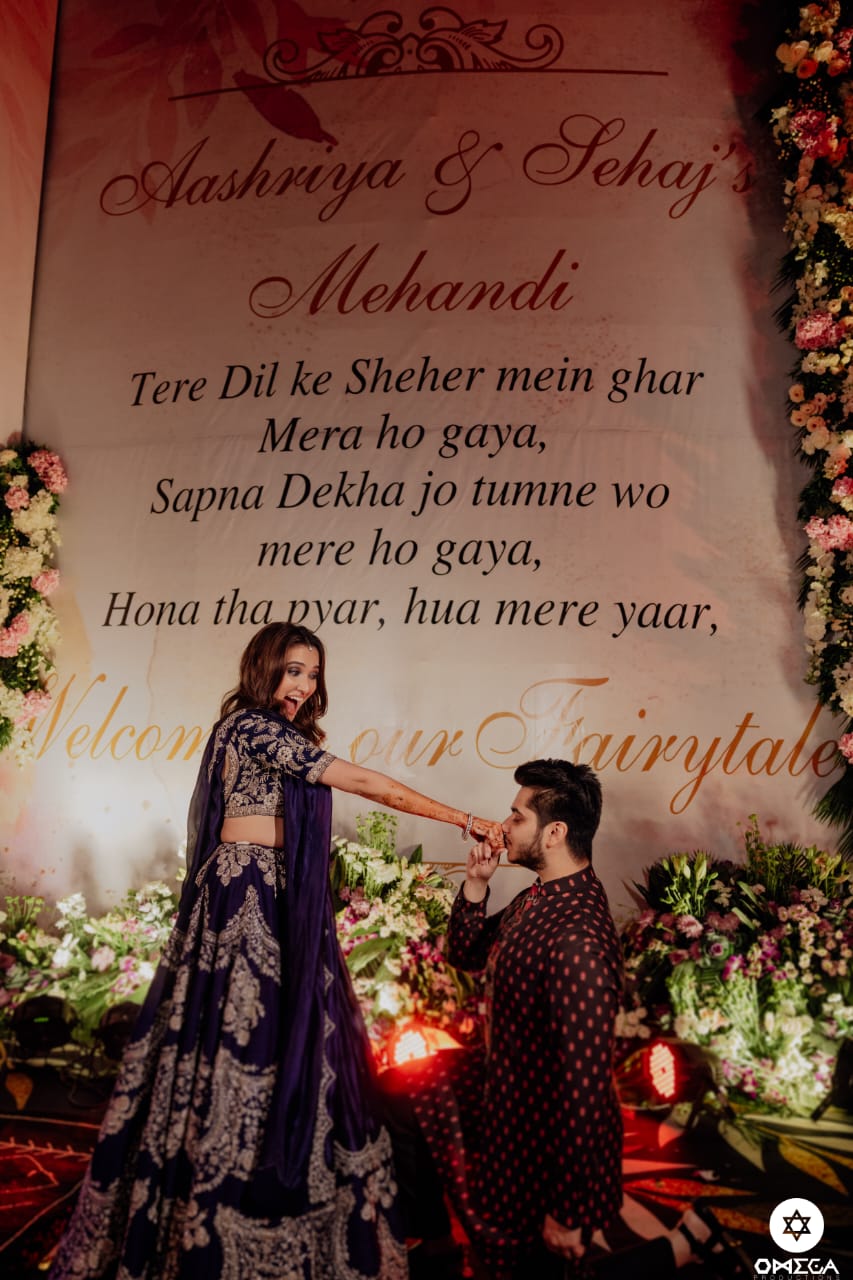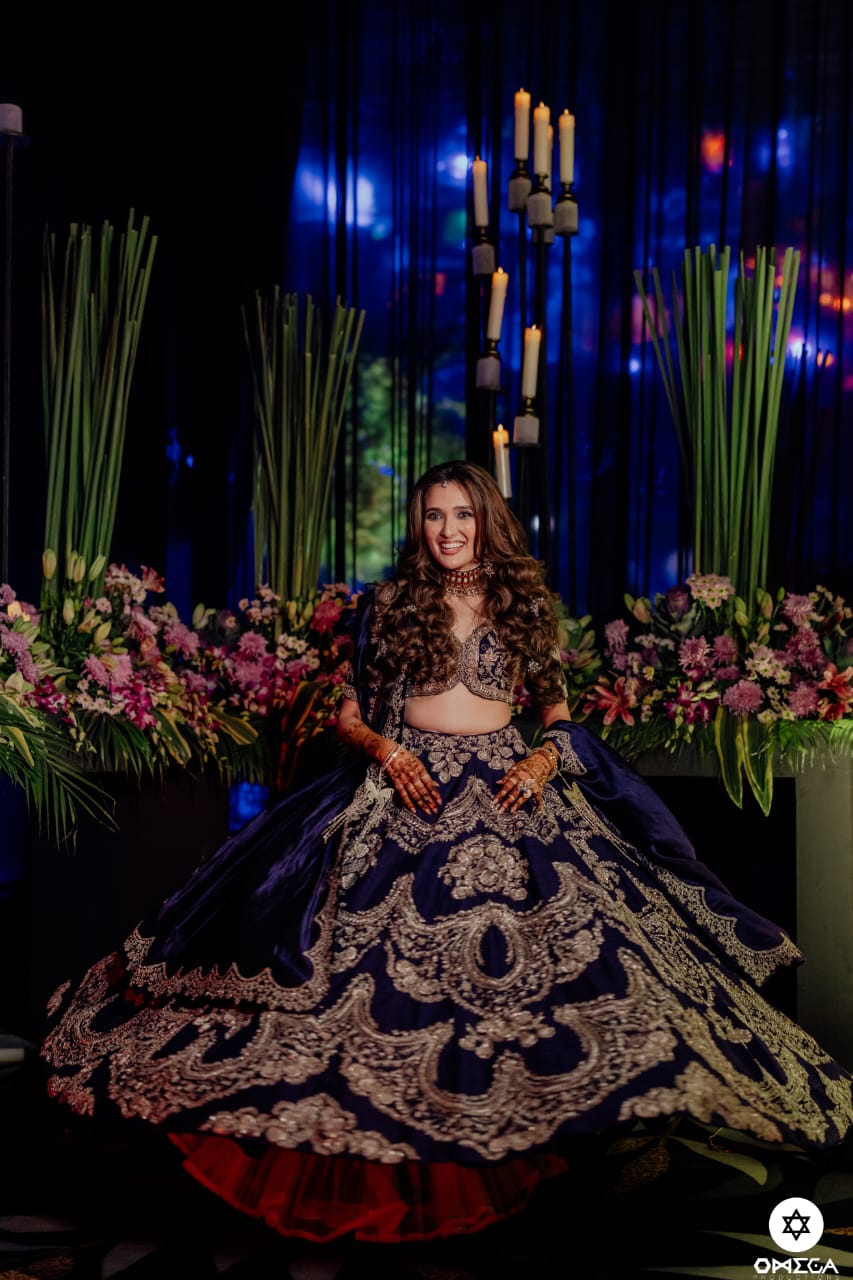 Chooda Ceremony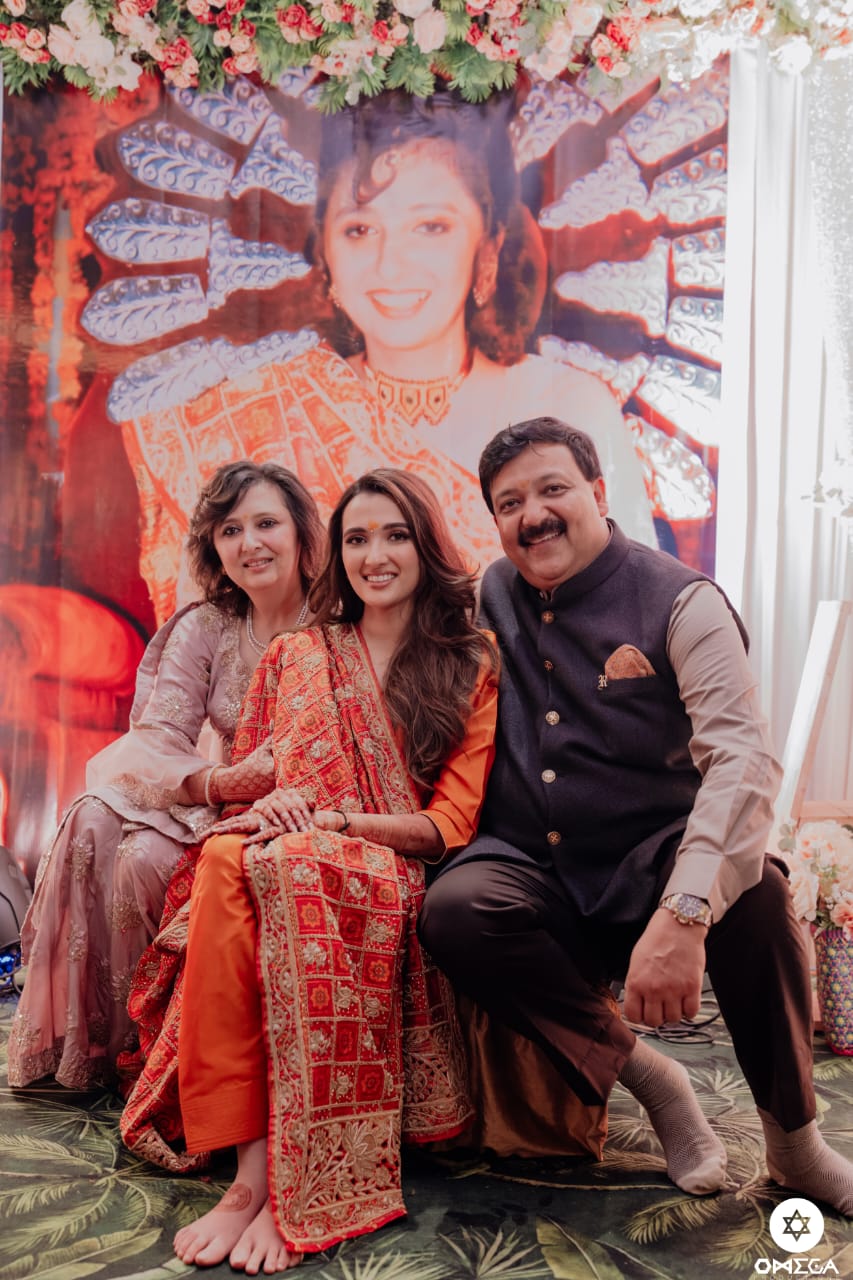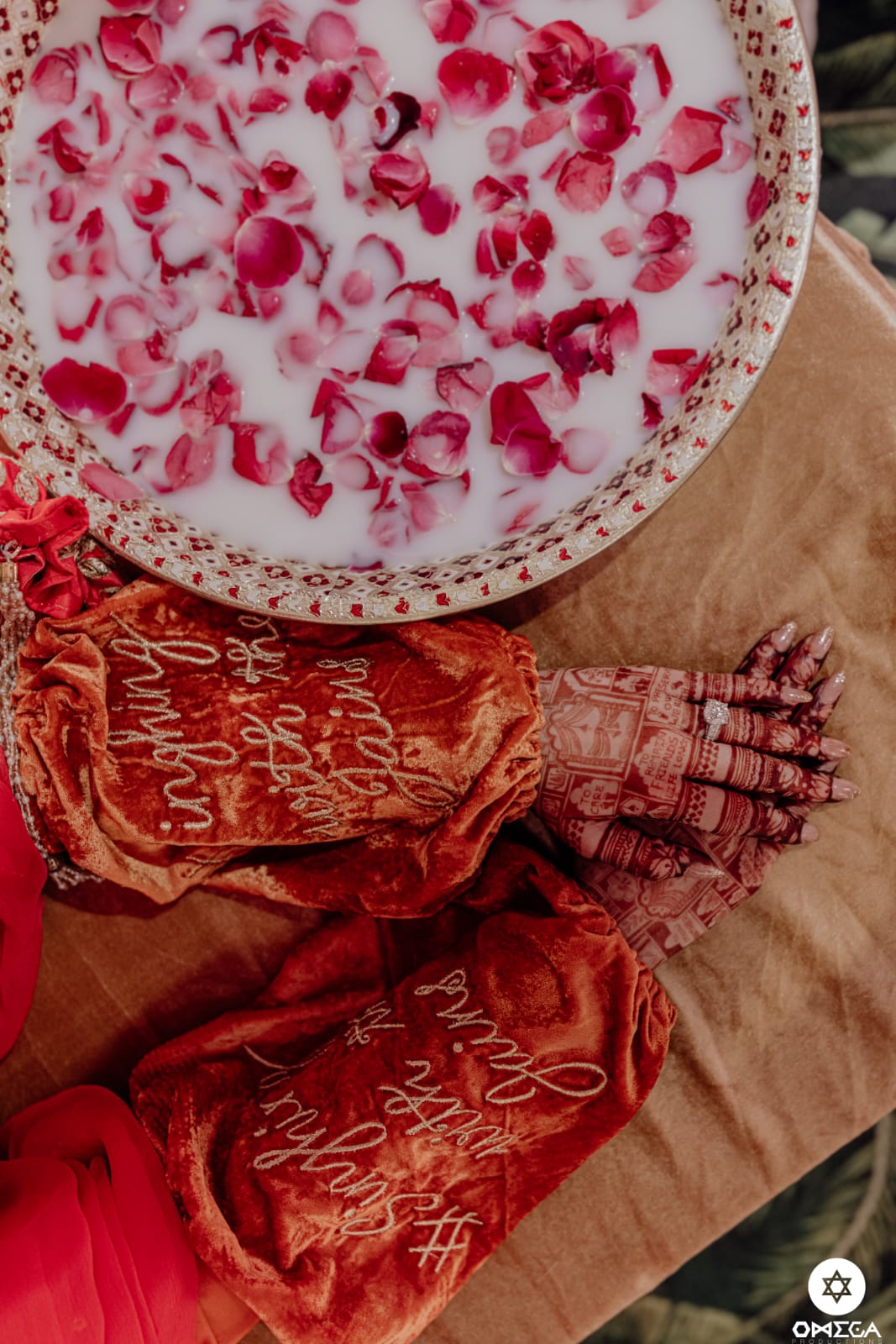 For her chooda ceremony, Aashriya paid homage to her mom. She wore her mother's dupatta for her chooda ceremony . The most special thing about the ceremony was the decor backdrop which had an Image of Aashriya's mother.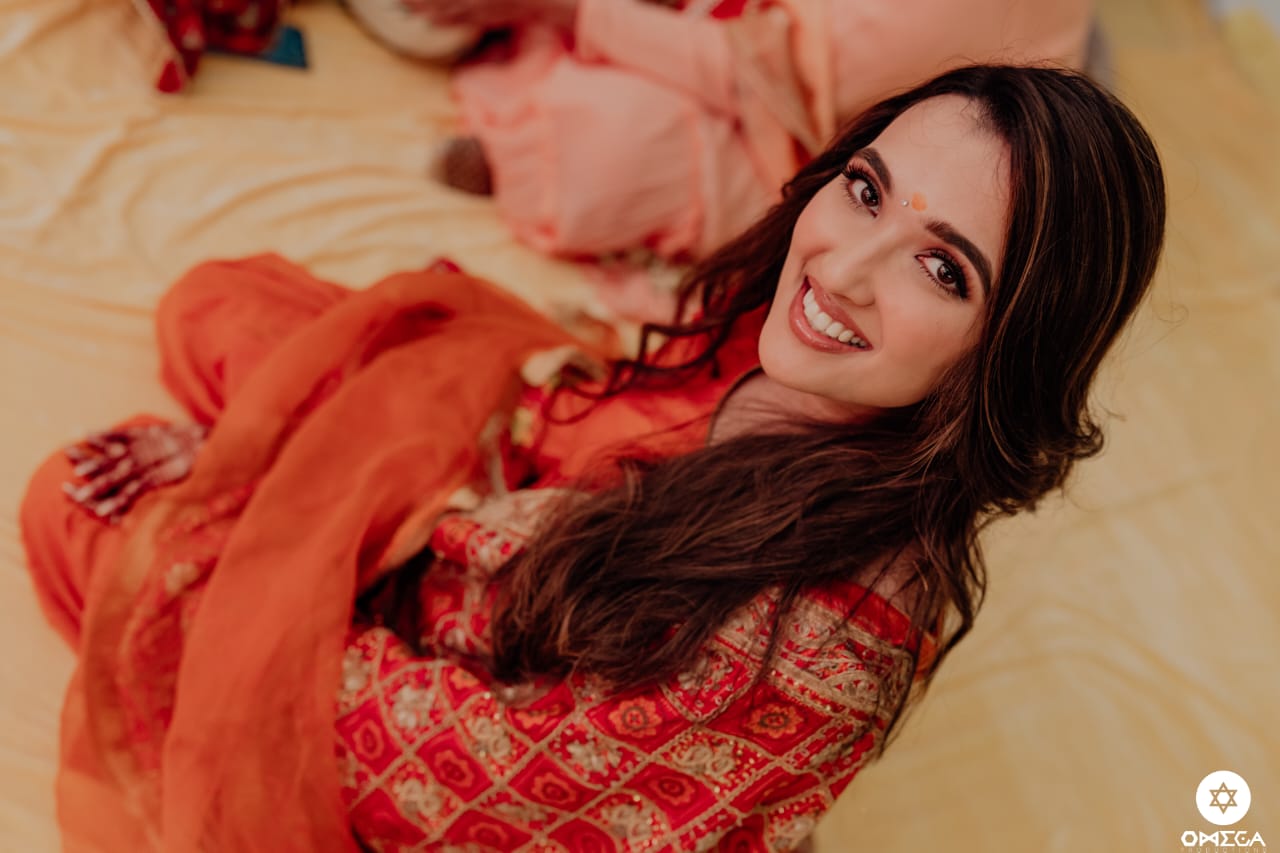 Haldi
With floral shower and a lot of fun, this function definitely makes for some memorable moments and best pictures for your wedding album.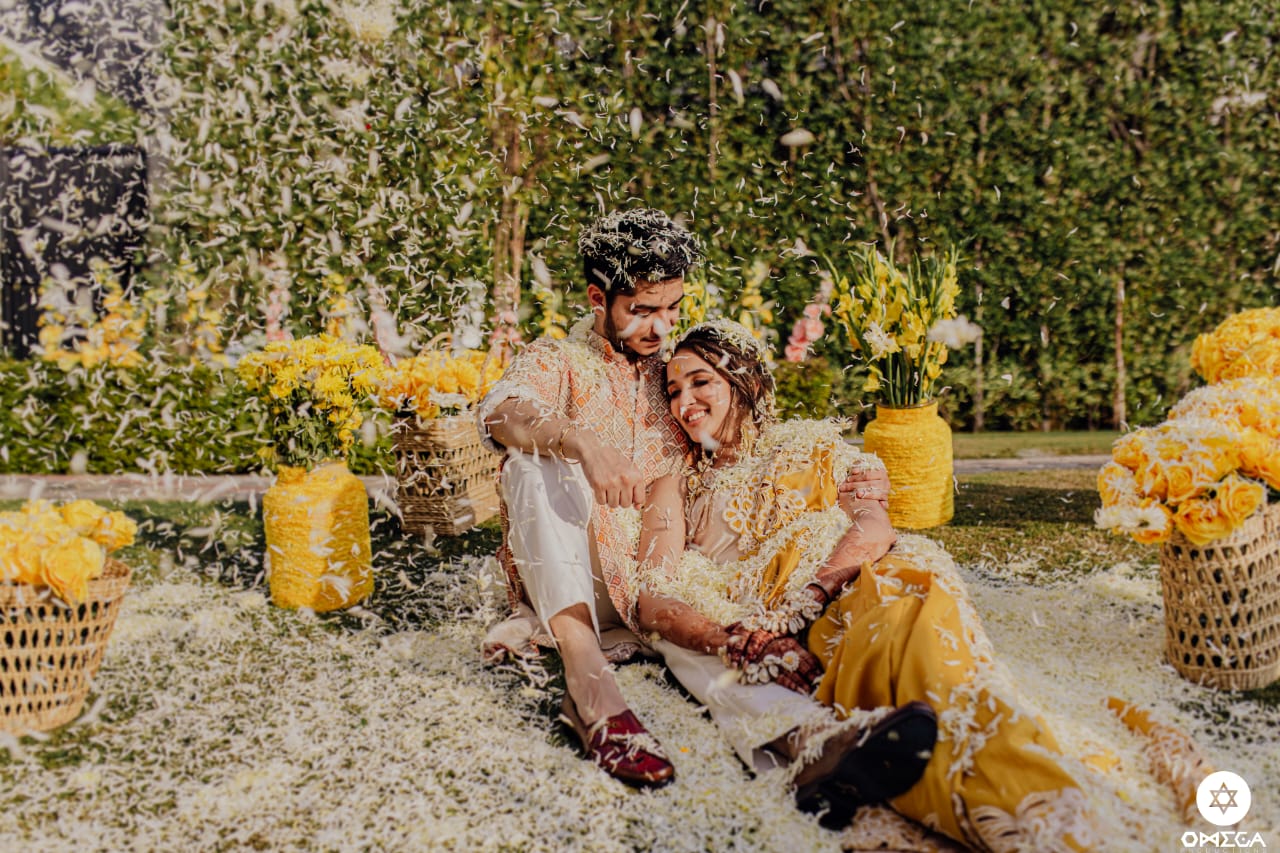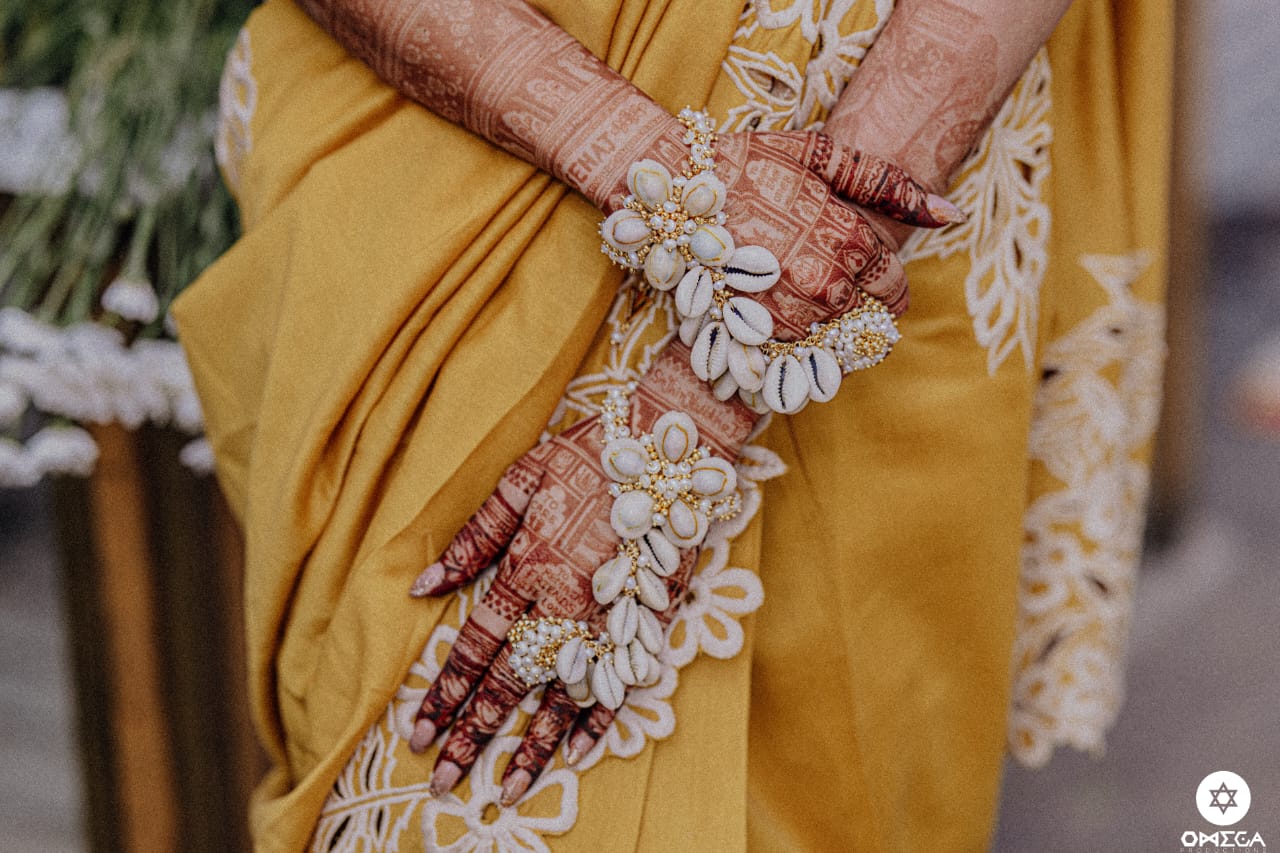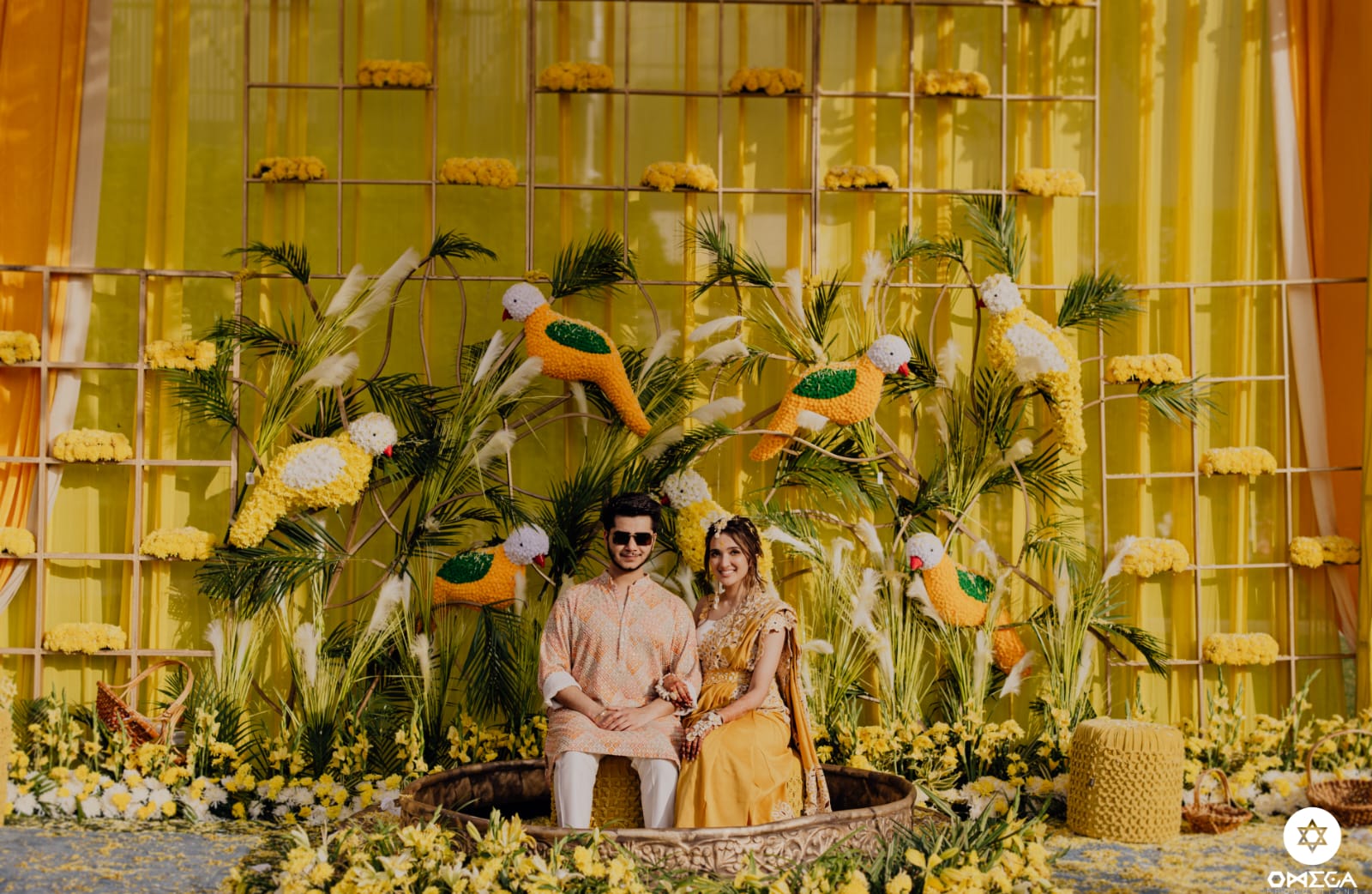 Haldi is without a doubt our favourite wedding event! Where everyone gets crazy, messy, and downright insane (literally). The riot of raw emotions, vibrant colors and happy vibes puts a smile on our faces and ecstatic energy fills the air. Here is a look at Aashriya and Sehajveer's fun and fab haldi.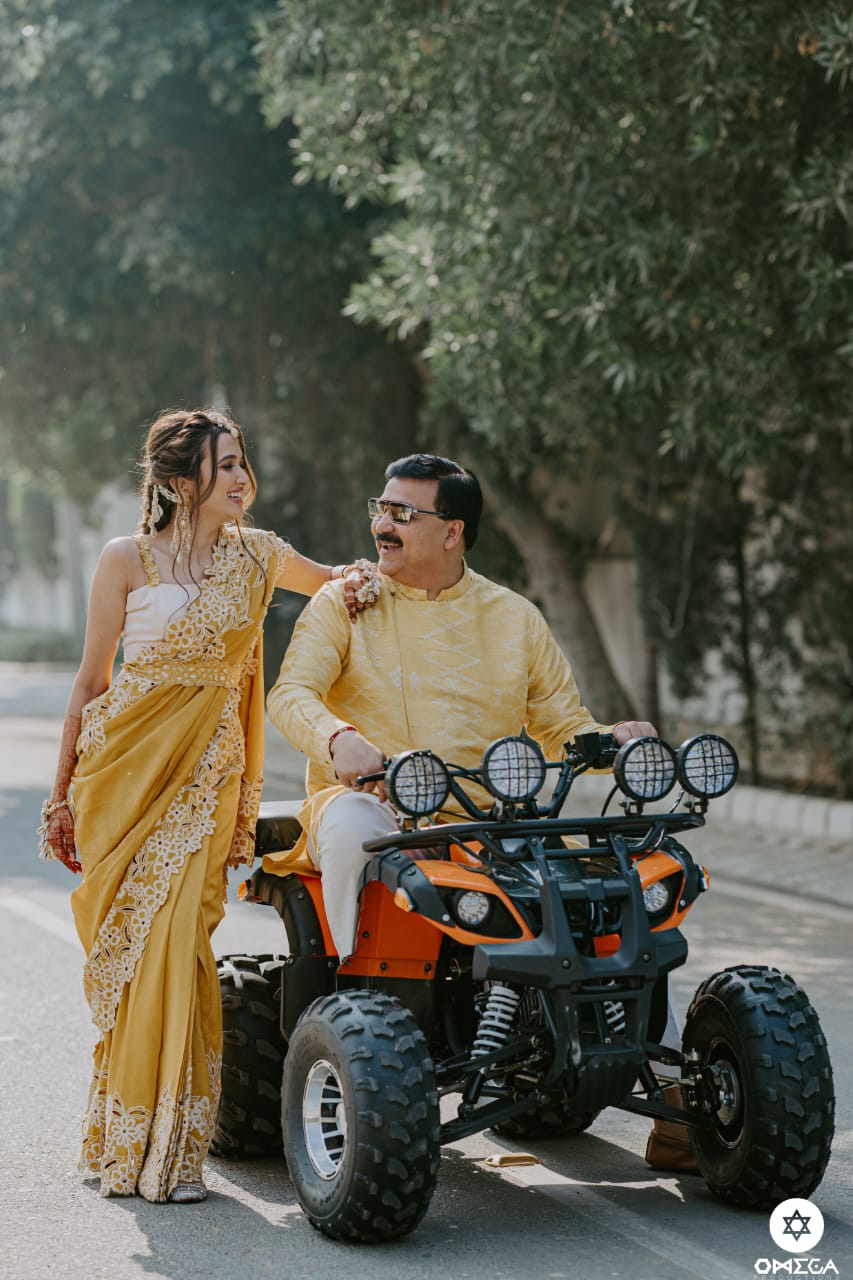 Sehajveer shares, "The Haldi had us entering on an ATV with a team of dholwalas, colour bombs and our friends releasing yellow balloons in the air. What followed was a day full of festivities and an evening Jagoo function."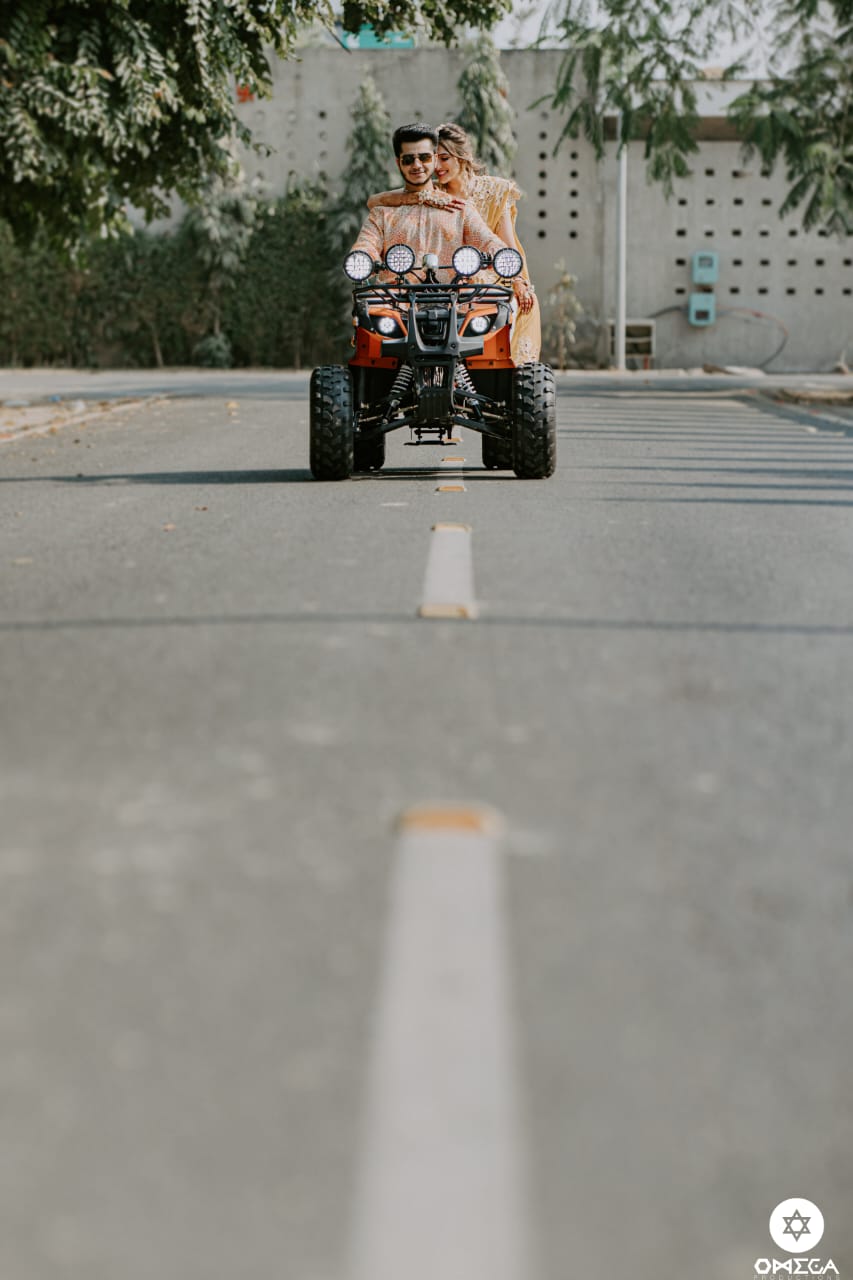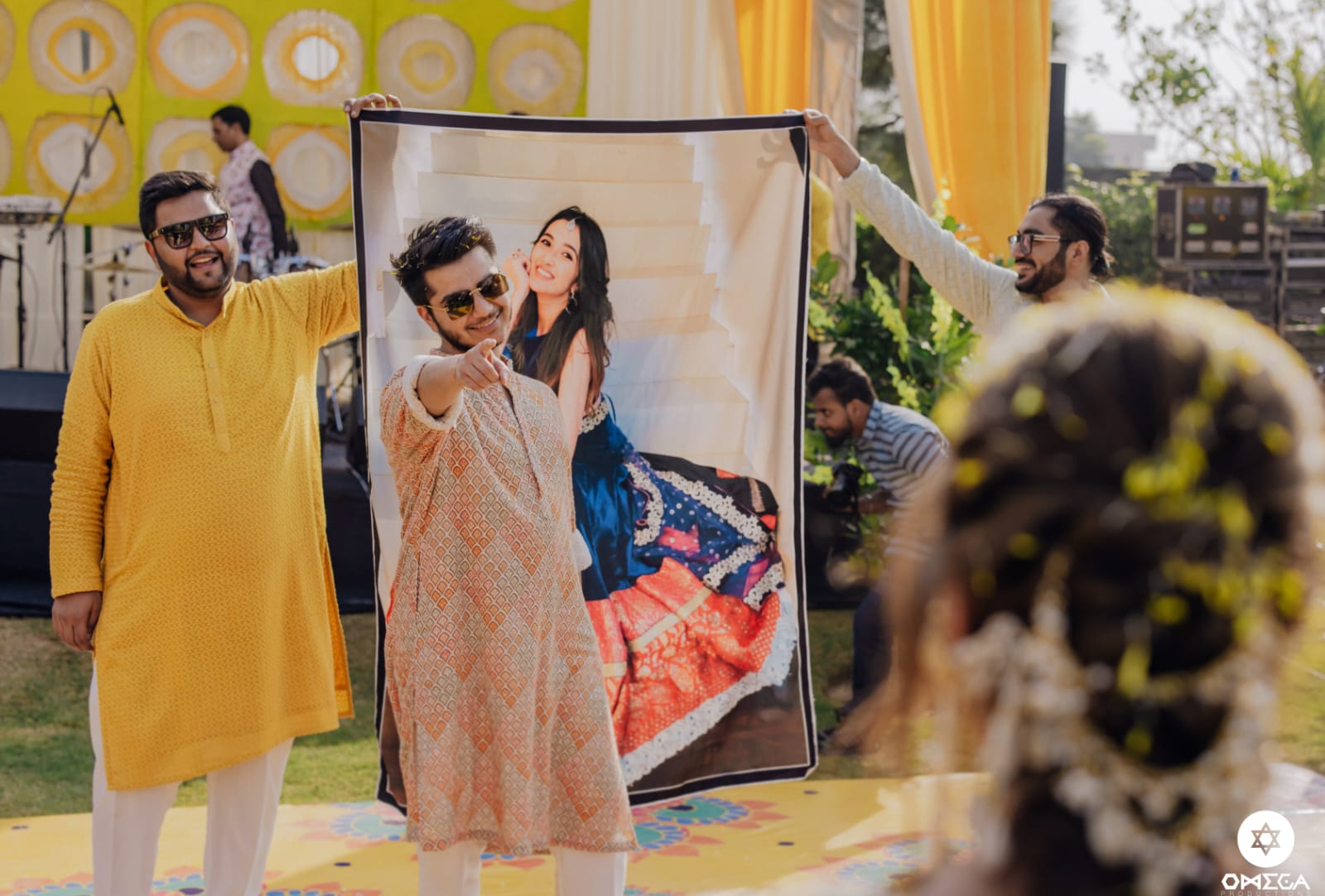 Engagement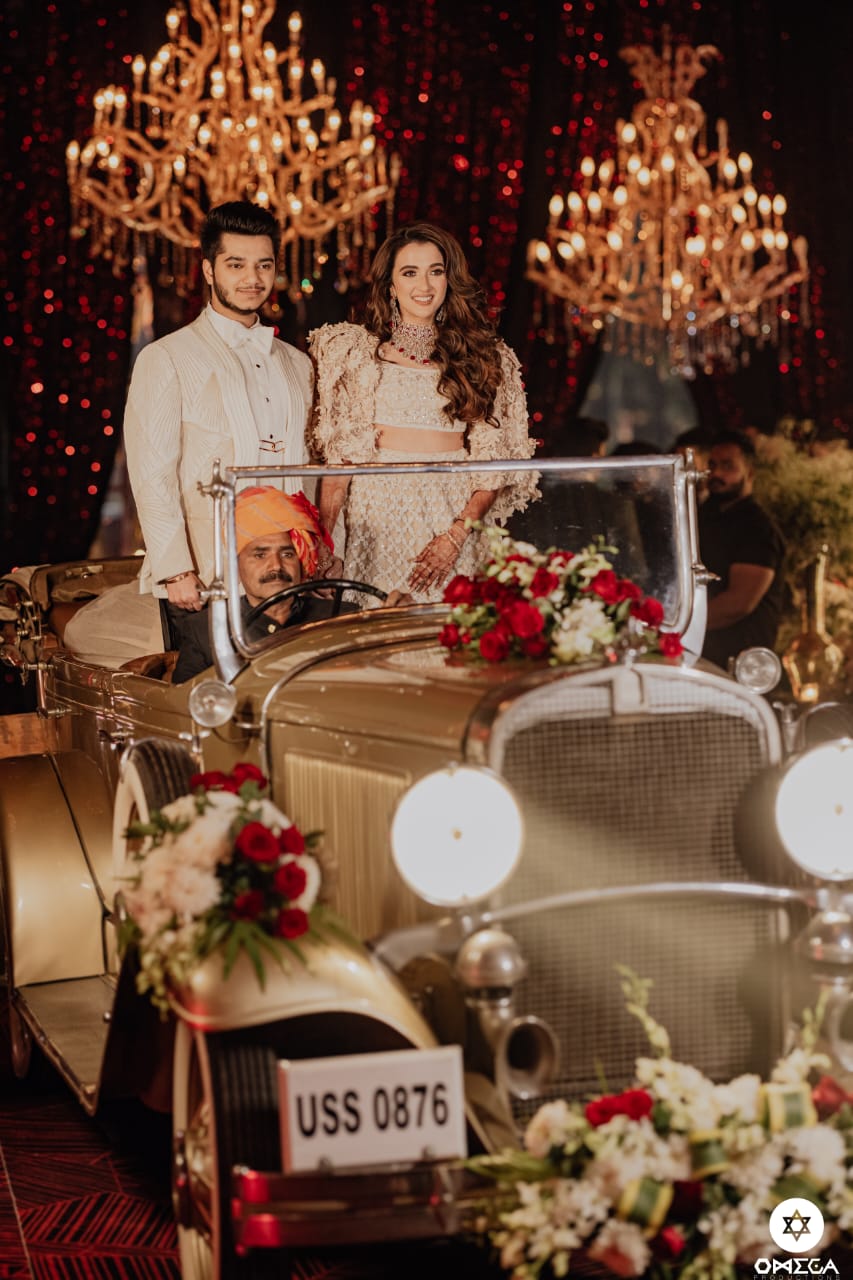 The decor for the engagement was glitzy and glamorous with hues of red. Keeping that in mind the couple kept the look minimal with simple ivory outfits. They made a grand entrances in a vintage car and exchanged rings under a sky full of bubbles.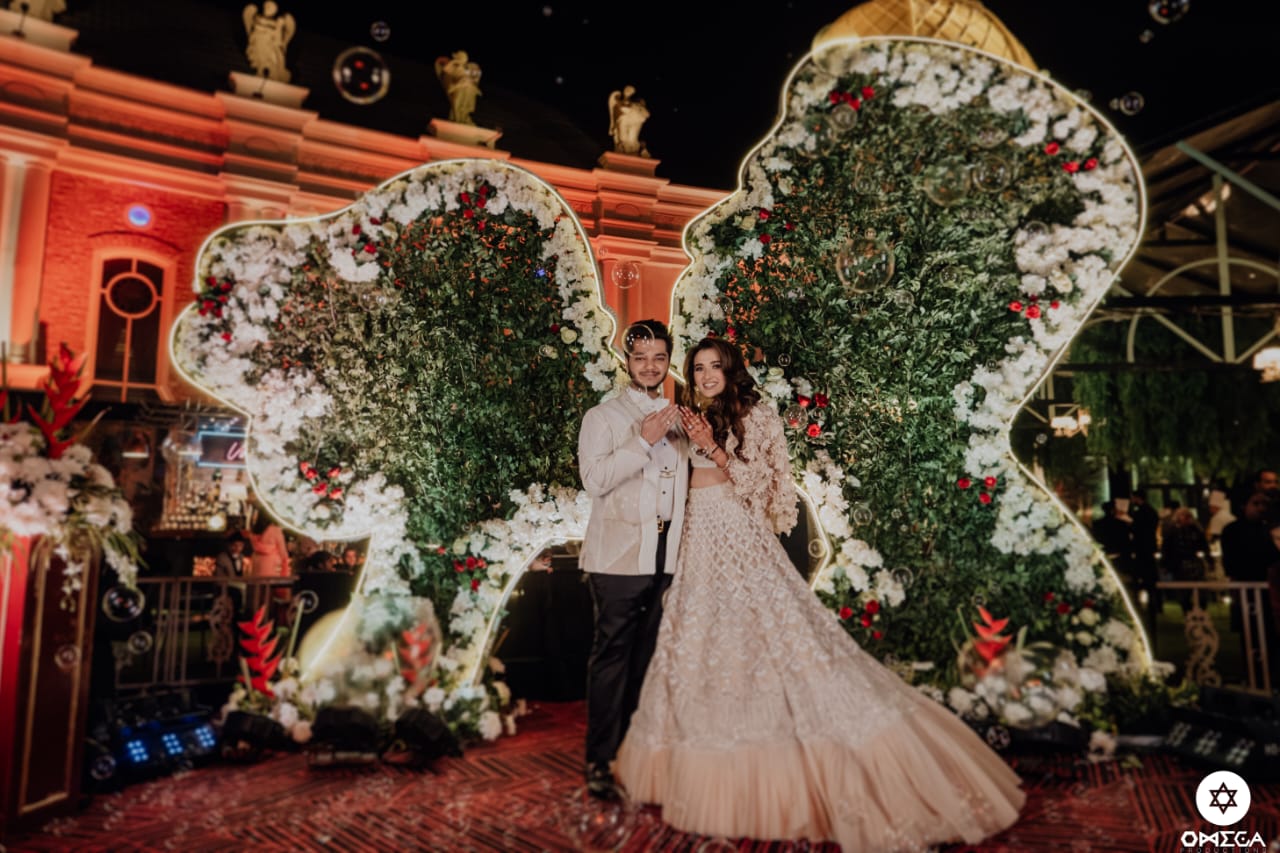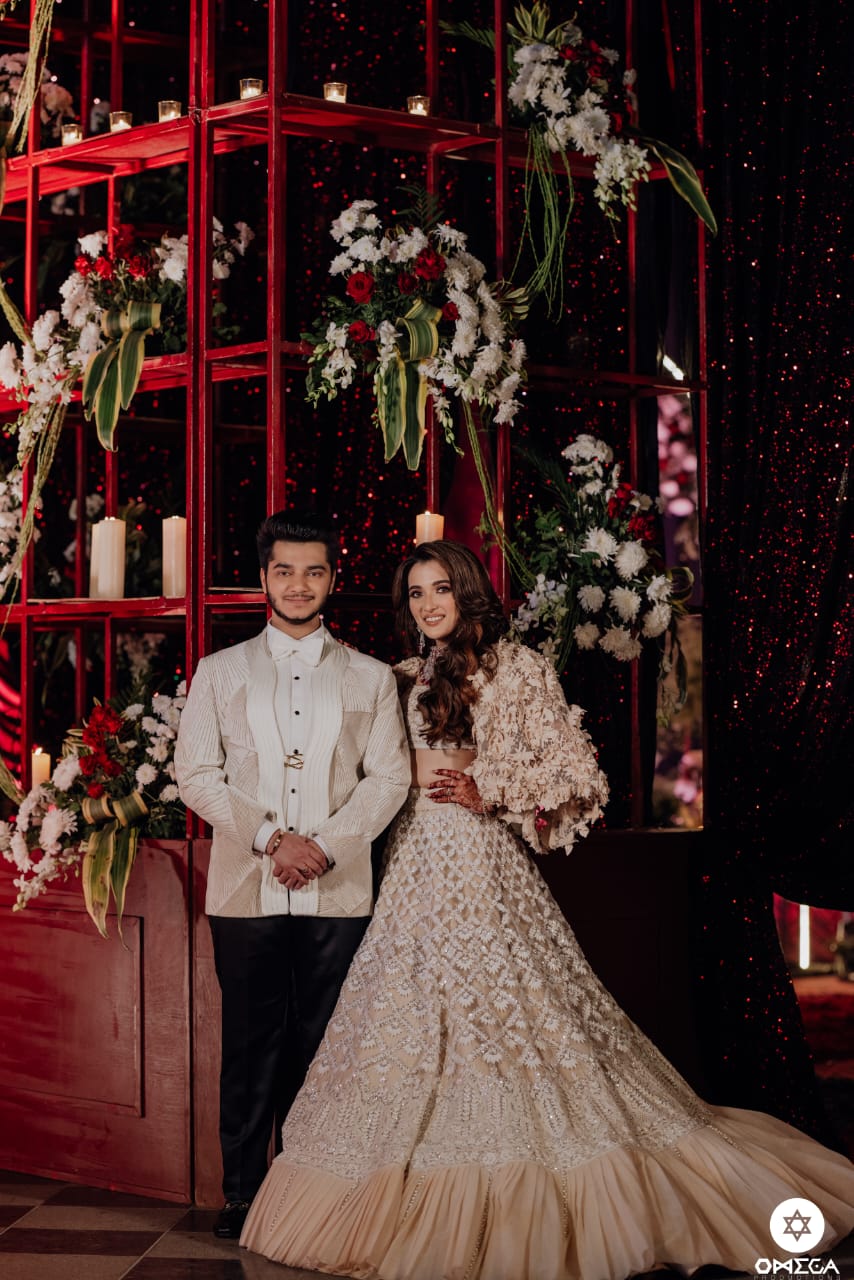 Paath and Bhajan Sandhya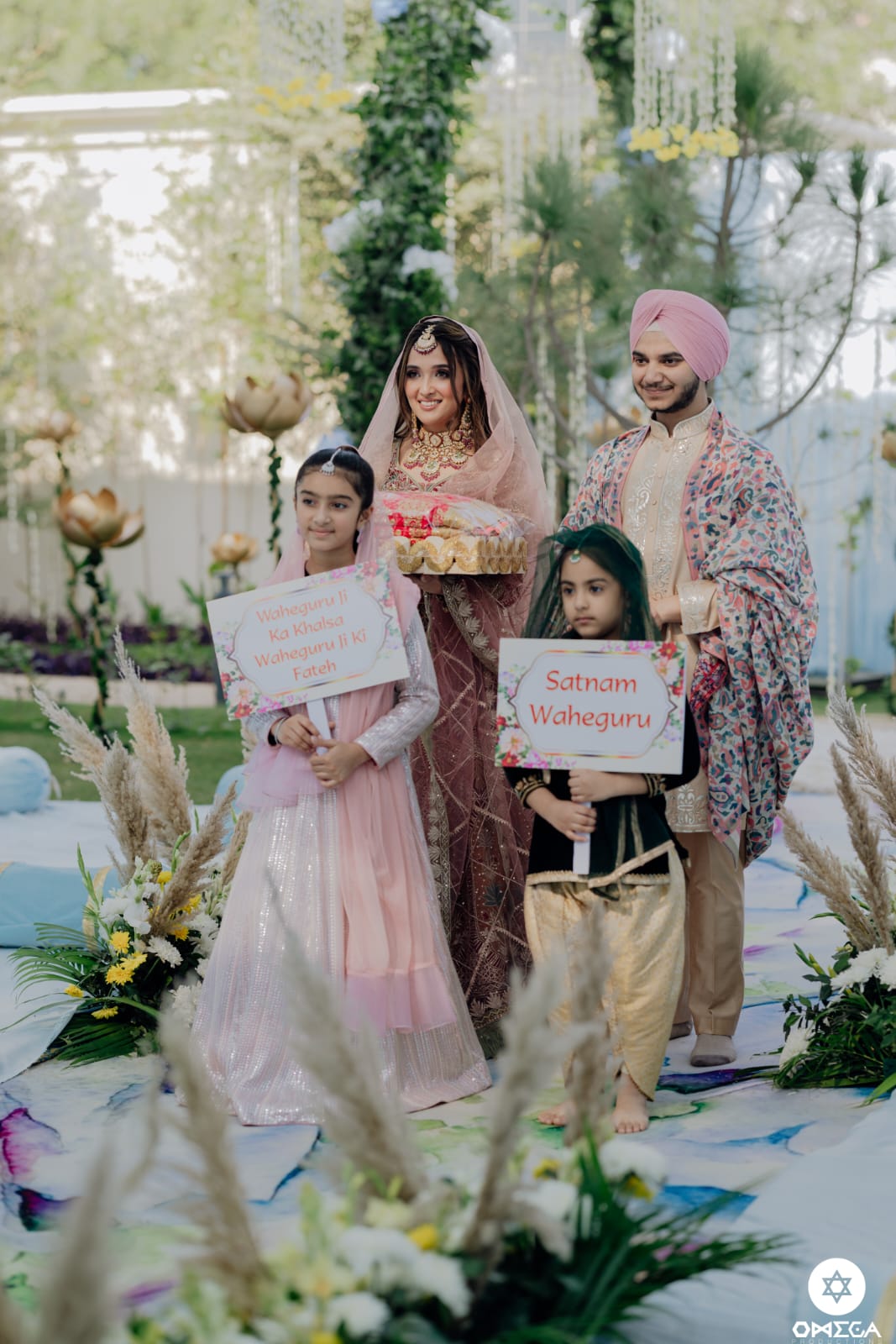 Aashriya shares, "The auspicious paath event looked nothing less than an Anand Karaj with its simplistic beauty. We entered with our nieces holding boards of Satnam Waheguru and the Bhajan Sandhya welcomed everyone with the portraits of our ancestors."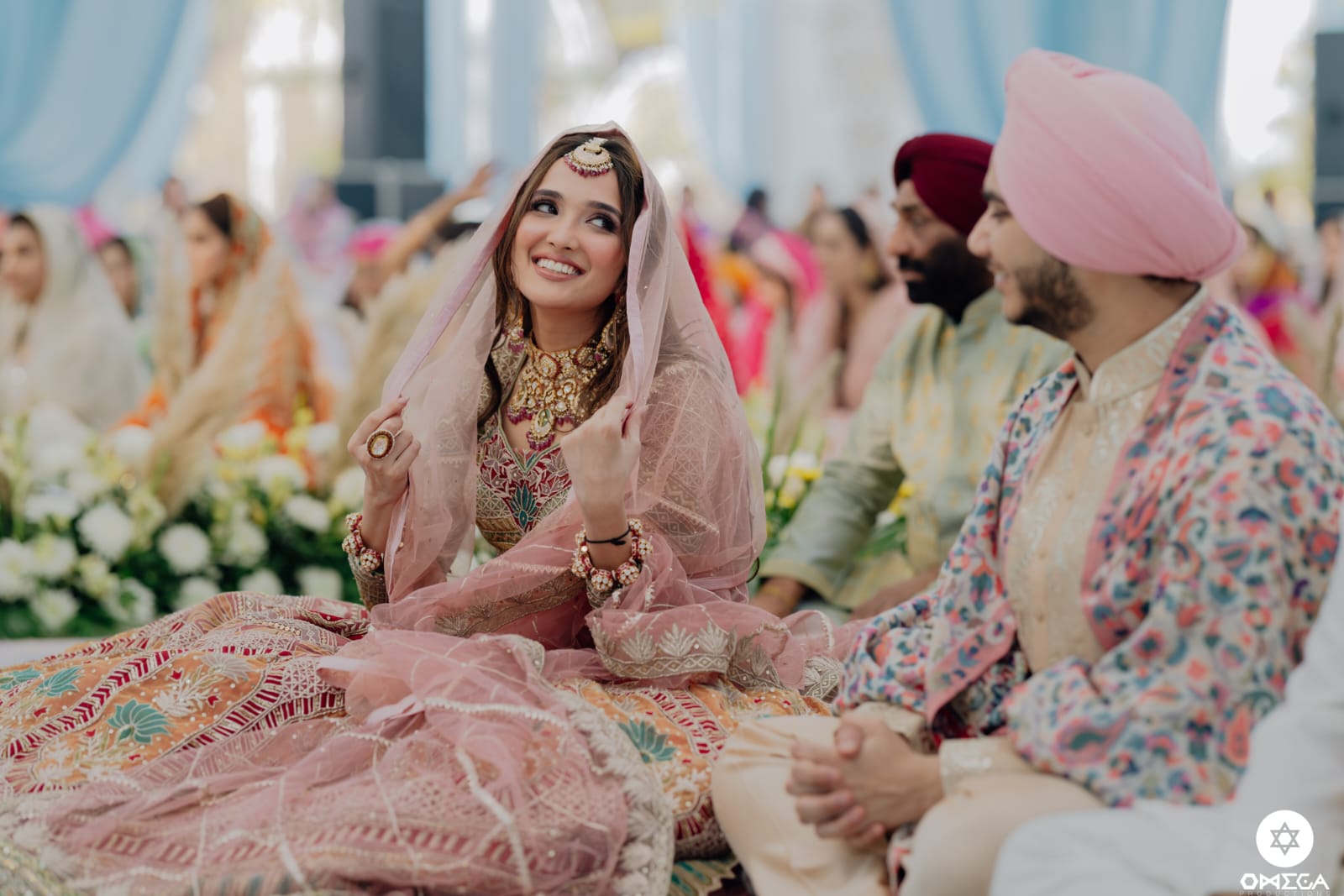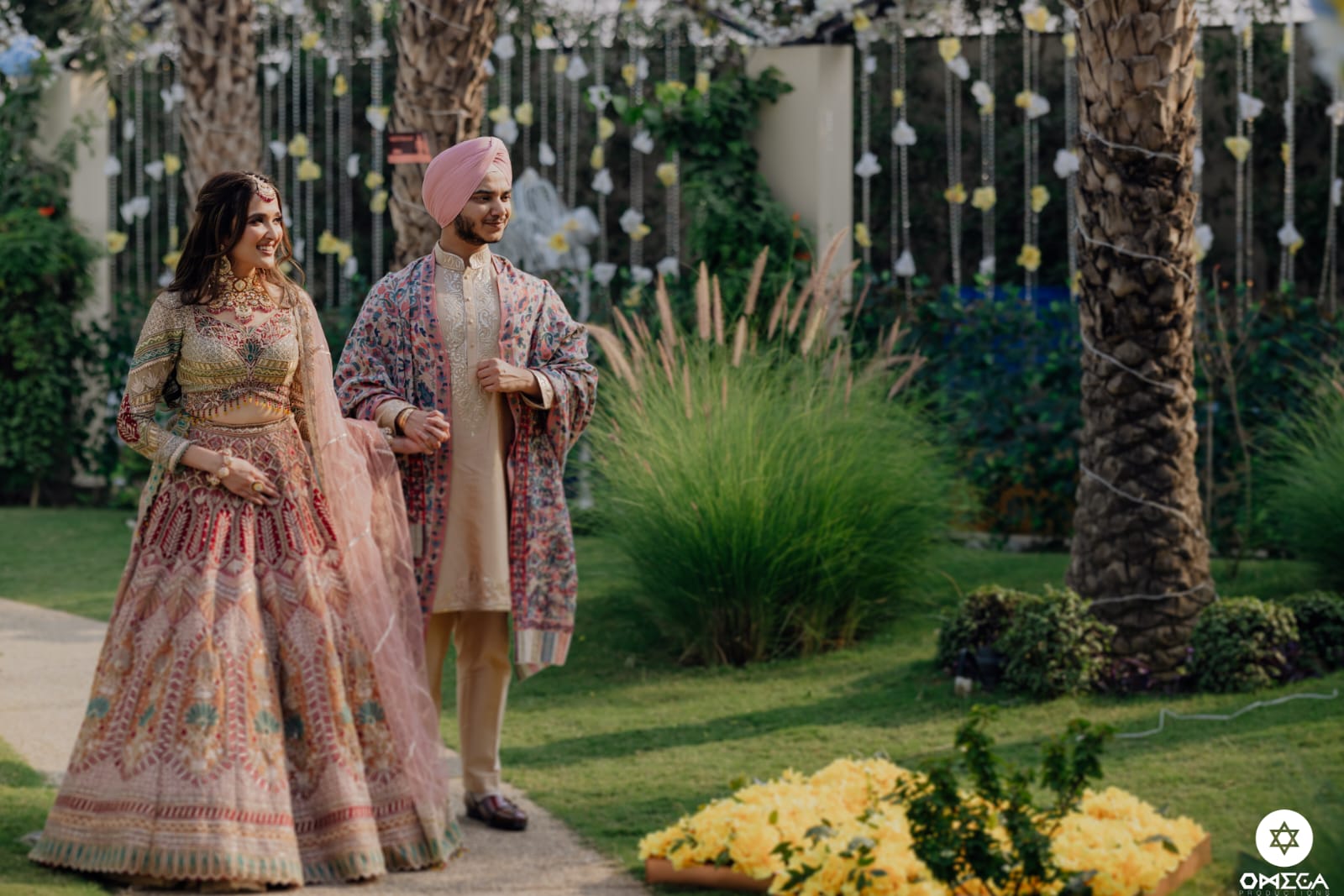 Wedding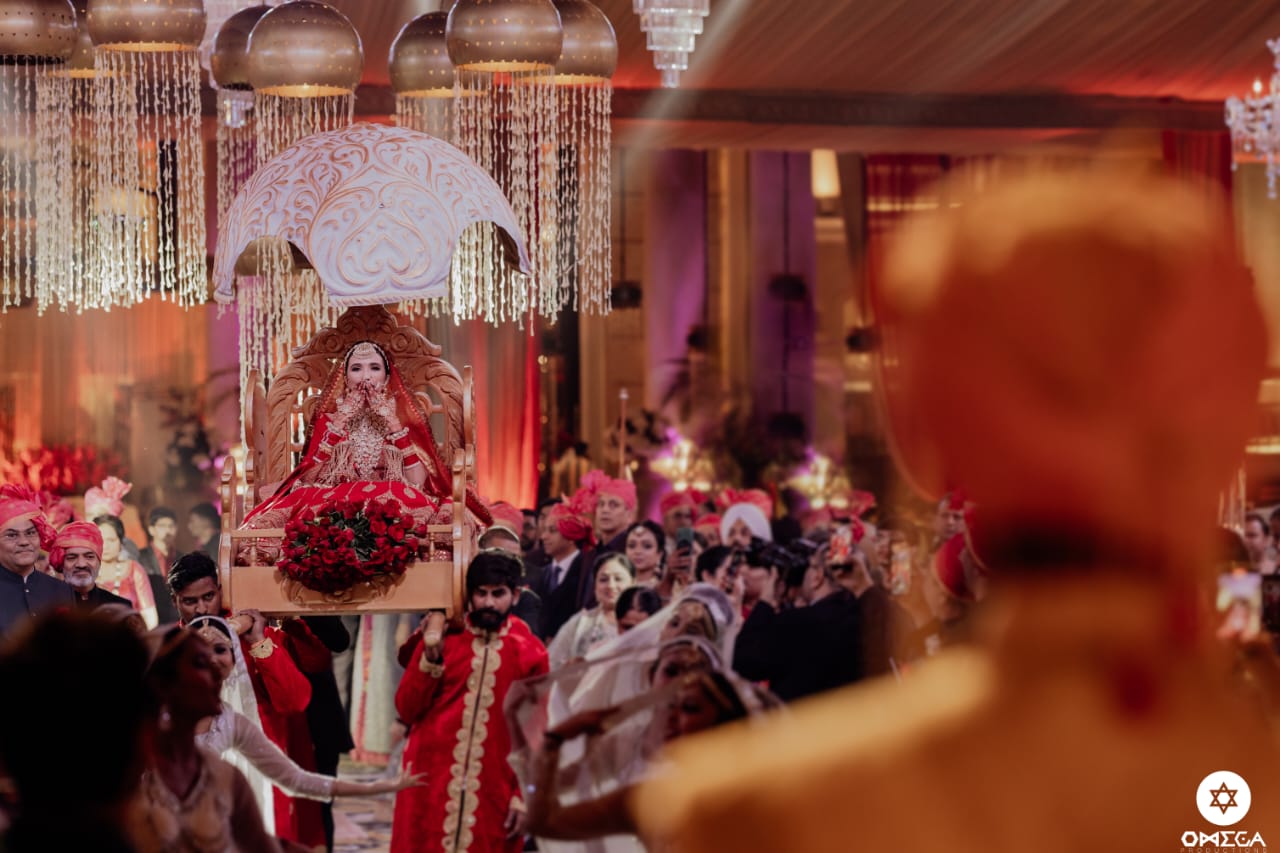 For the wedding grandeur took a front seat as the bride entered seated on a palki surrounded by graceful dancers. As the varamalas were exchanged a petal shower engulfed the couple. A fusion wedding with both Sikh and Jain cultures, this wedding had no dearth of colour and traditions.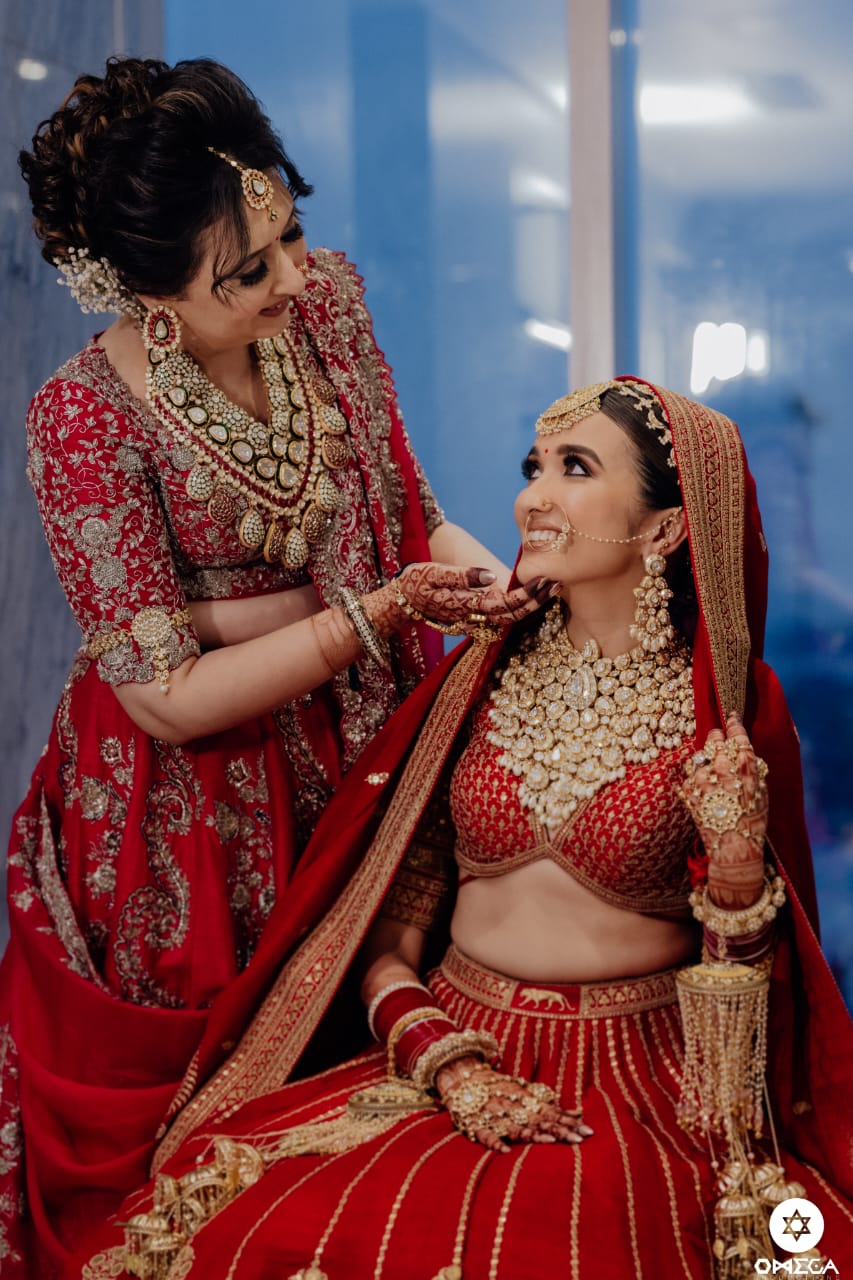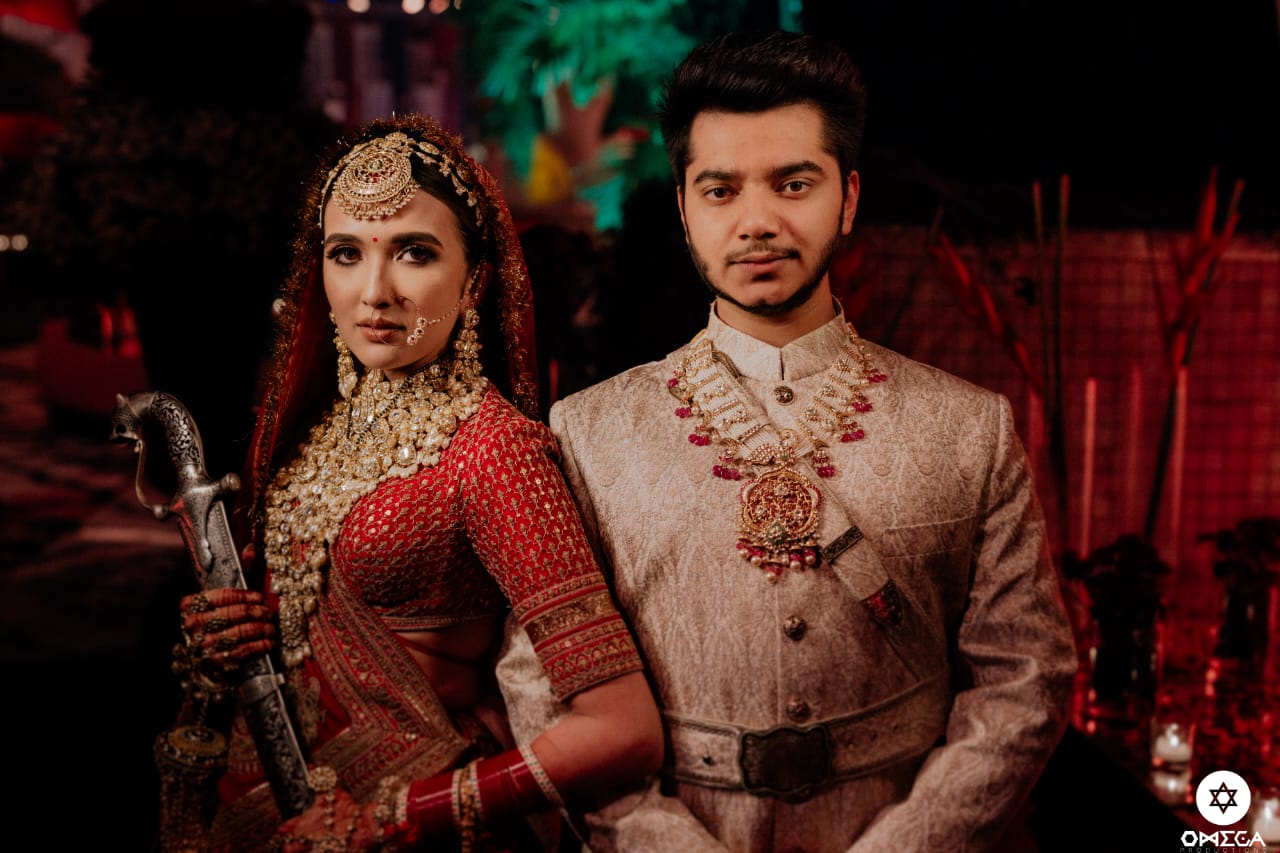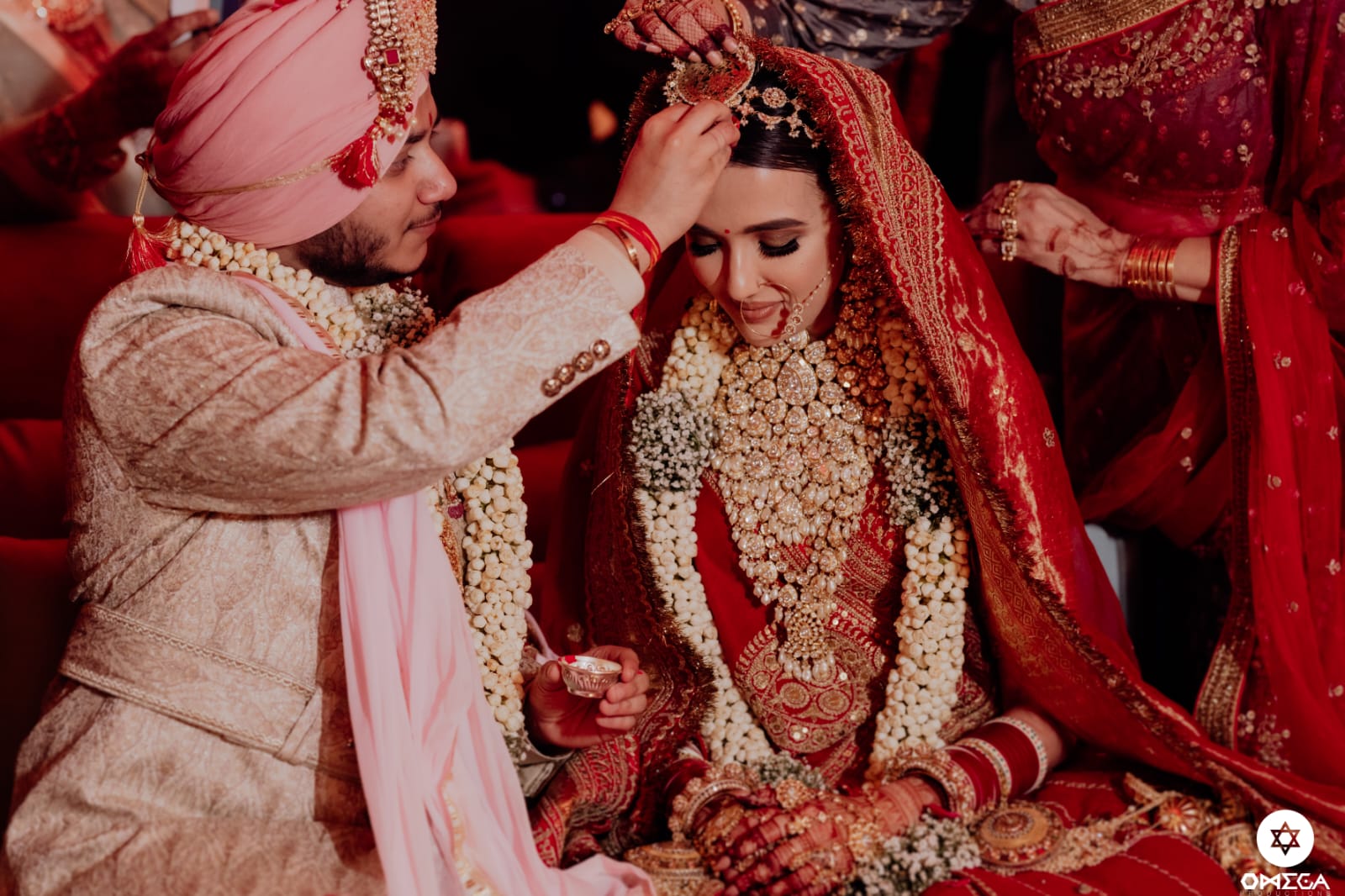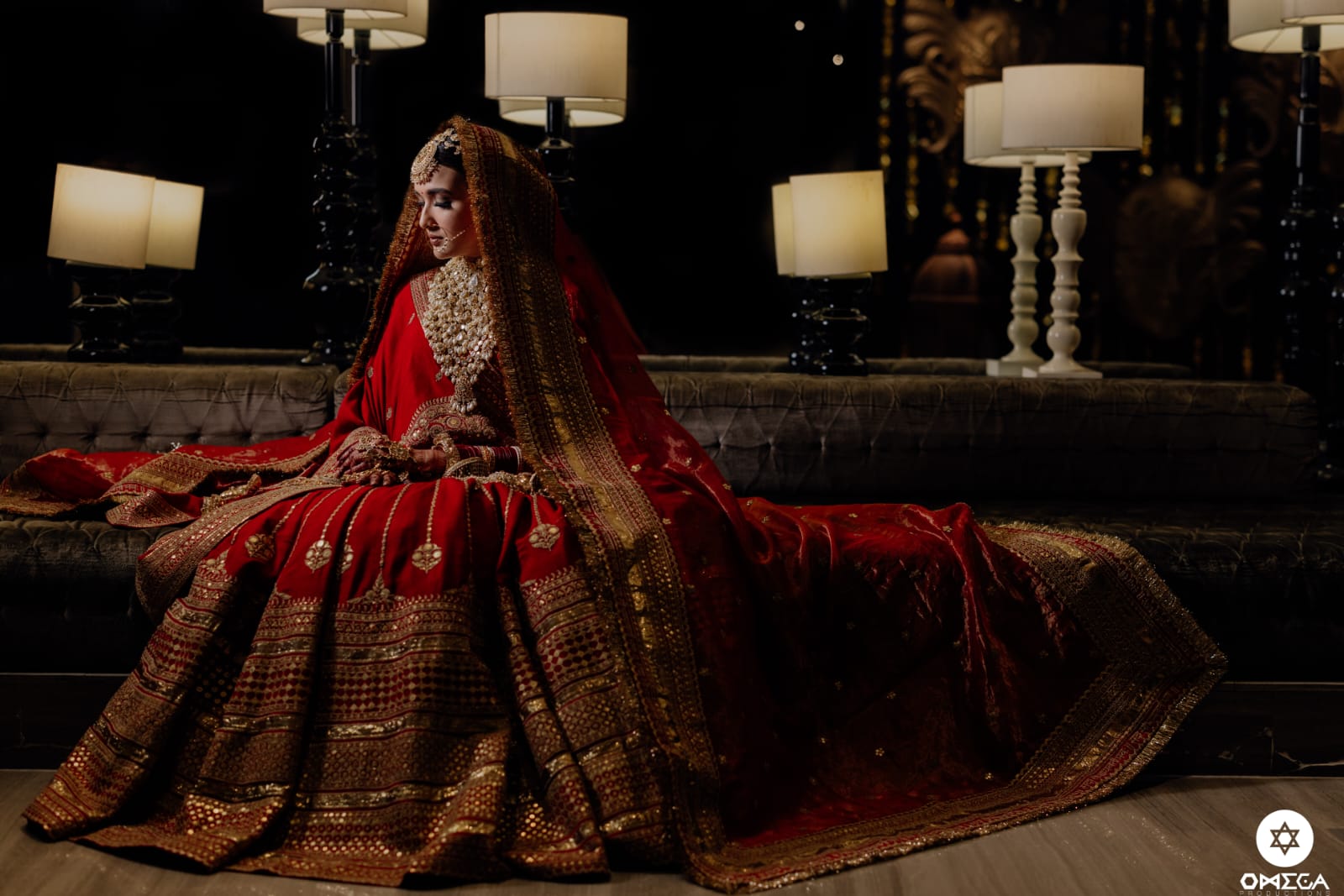 The Wedding Makers
Venues: Maverick, Ludhiana (Sufi Night); Atam Vallabh Janpath, Ludhiana (Mehndi); Stallone Manor, Ludhiana (Engagement), Maharaja Grand, Ludhiana (Wedding)
Wedding Planner: AH Productions and Entertainment
Décor: Bloom & Hues, Seven Creations
Groom's Outfits: Siddartha Tytler (Sufi Night), Qbik (Mehndi), Anuj Madaan Couture (Engagement), Diwan Saheb (Wedding)
Bride's Outfits: The Wardrobe Virtue (Sufi Night), Abhinav Mishra (Paath), Rimple and Harpreet Narula (Bhajan Sandhya), Manish Malhotra (Engagement), Jayanti Reddy (Mehndi), Sabyasachi Mukherjee (Wedding)
Makeup: Gurleen & Kamal (Paath and Bhajan Sandhya, Sufi Night, Haldi), Drishti Singh (Mehndi), Samaira Sandhu (Engagement, Wedding)
Entertainment: Harshdeep Kaur, Sanam Band, Sufi Sparrows (Mehndi) & BollyJammers Band (Mehndi), Junaid (Sufi Night)
E-Invite: Simayan Universal Infinity Studios
Photography and Videography: Omega Productions