Destination wedding in Jaisalmer- Here are our top 7 recommendations!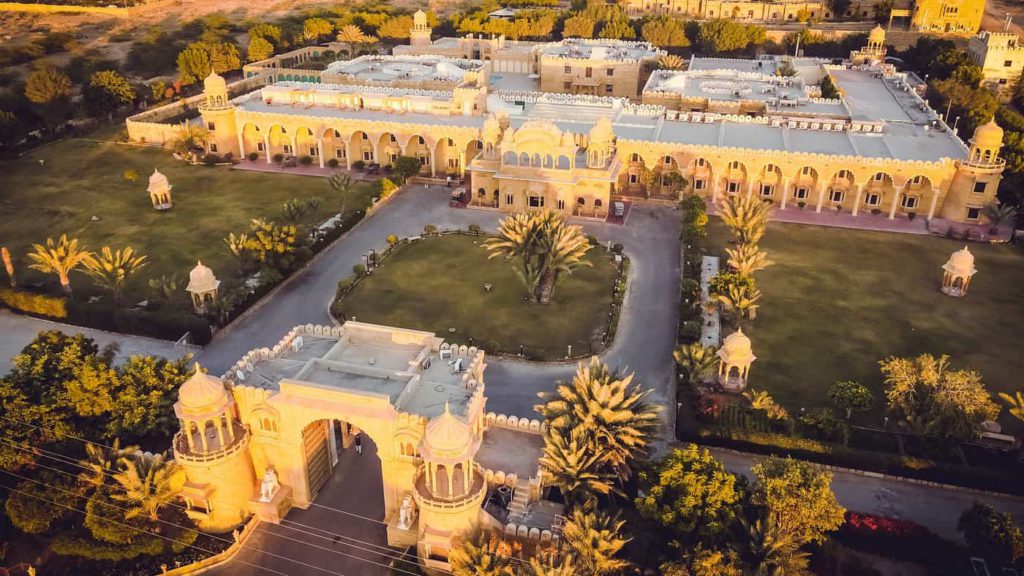 Destination wedding in Jaisalmer- Jaisalmer is a land of sand dunes and forts, with a history of being one of the oldest trading cities in India. It is also one of the most popular wedding destinations in India. With its heavenly views, opulent palaces and forts, you can have an unforgettable wedding here. Destination weddings are some of the most memorable moments in life. Whether you're after a heritage property with incredible views or a more intimate location with all the grandeur and luxury, we have everything covered!
Here are our Top 7 recommendations for a Destination wedding in Jaisalmer!
1. Suryagarh, Jaisalmer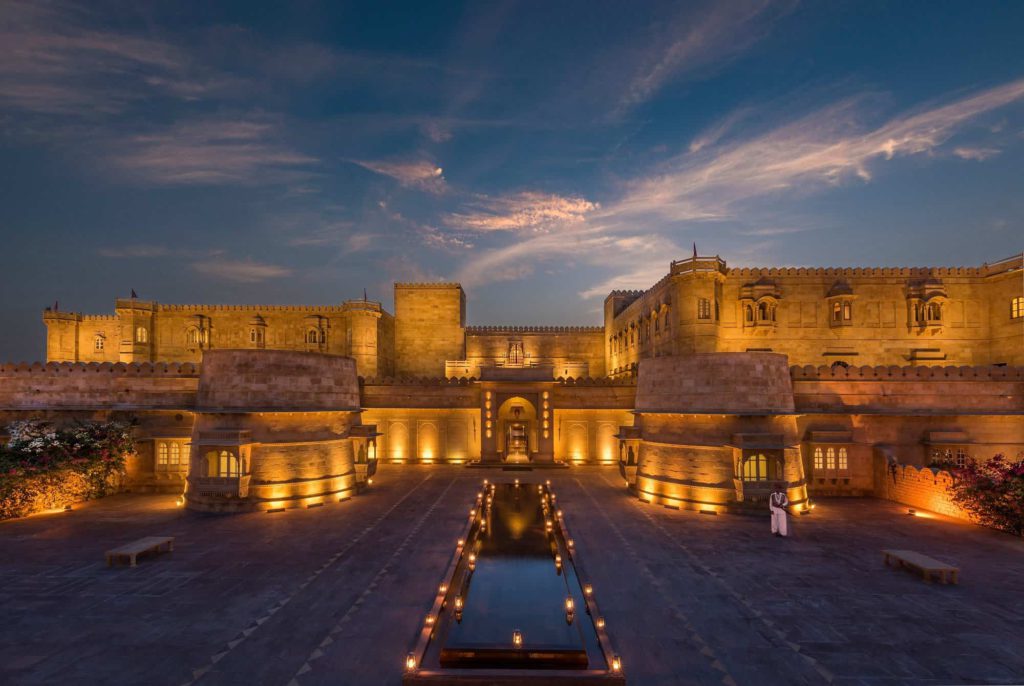 Beautiful weddings leave us with precious memories, and Suryagarh is a perfect place for a fairytale moment. If you are planning a Destination wedding inJaisalmer, Suryagarh is an idyllic and picturesque place that will take your wedding to a whole other level. This property is the epitome of luxury, with plethora of venues, you can host all your functions at different locations. Its beautiful surroundings offer backdrops and locations straight out of a royal fairy tale. While planning a stunning palace destination wedding in Jaisalmer, Suryagarh offers six wedding venues, including gardens and courtyards that will surprise you.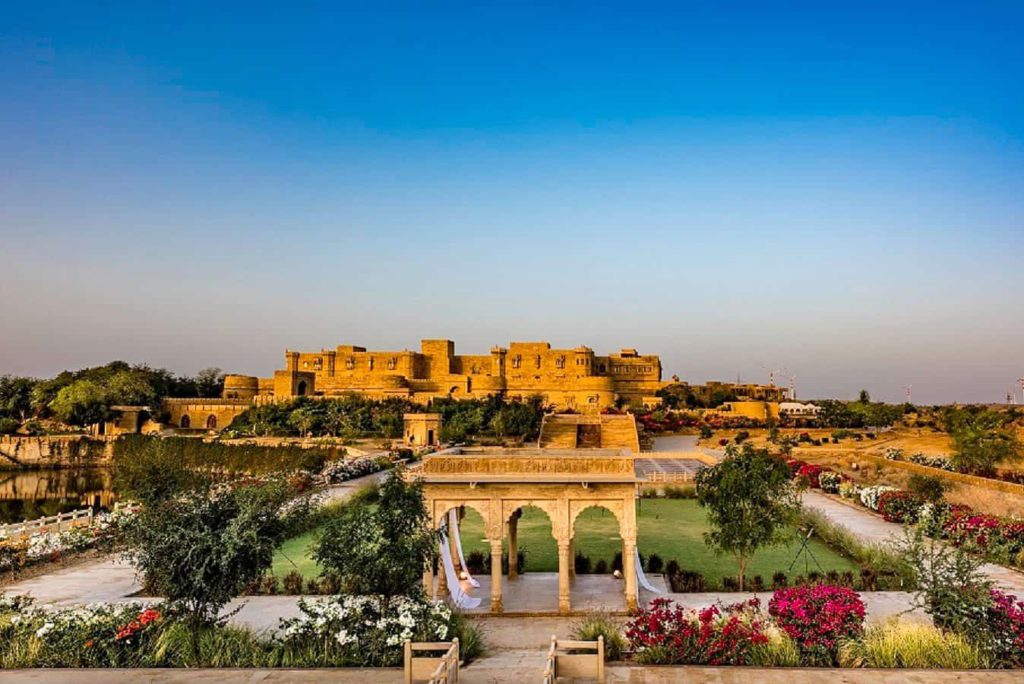 Indoor spaces at Suryagarh, can accommodate up to 100-150 guests each. The Sunset Patio is a beautiful outdoor space that can accommodate up to 300-400 guests. If you're looking for a larger space, the Lakeside area by the pool is an ideal choice for a wedding. This space can accommodate up to 400-600 guests and offers a beautiful view of the pool and lake, creating a picturesque backdrop for your special day.
No. of rooms- 72 rooms including suites
Cost of rooms at Suryagarh – Rs 18,000 Rs 25,000
Check out the property – Suryagarh , Jaisalmer
Recommended read- Destination wedding in Udaipur- Top 14 Venues to check out!
2. Fort Rajwada, Jaisalmer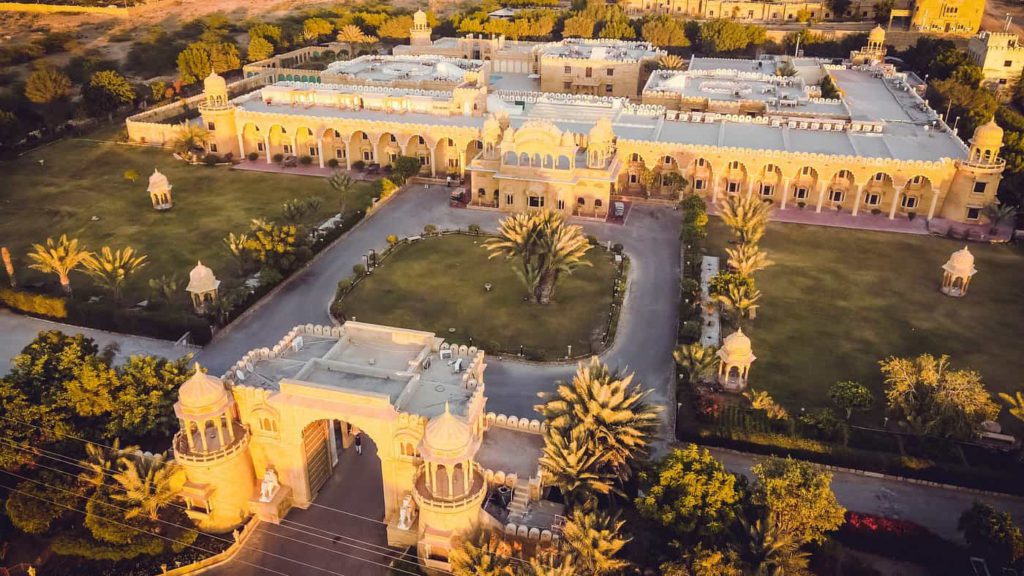 If you're looking for a luxury hotel in Jaisalmer, look no further than Fort Rajwada. Established in 1998, Fort Rajwada is the epitome of luxury in Jaisalmer. This place is the perfect location for all your wedding functions.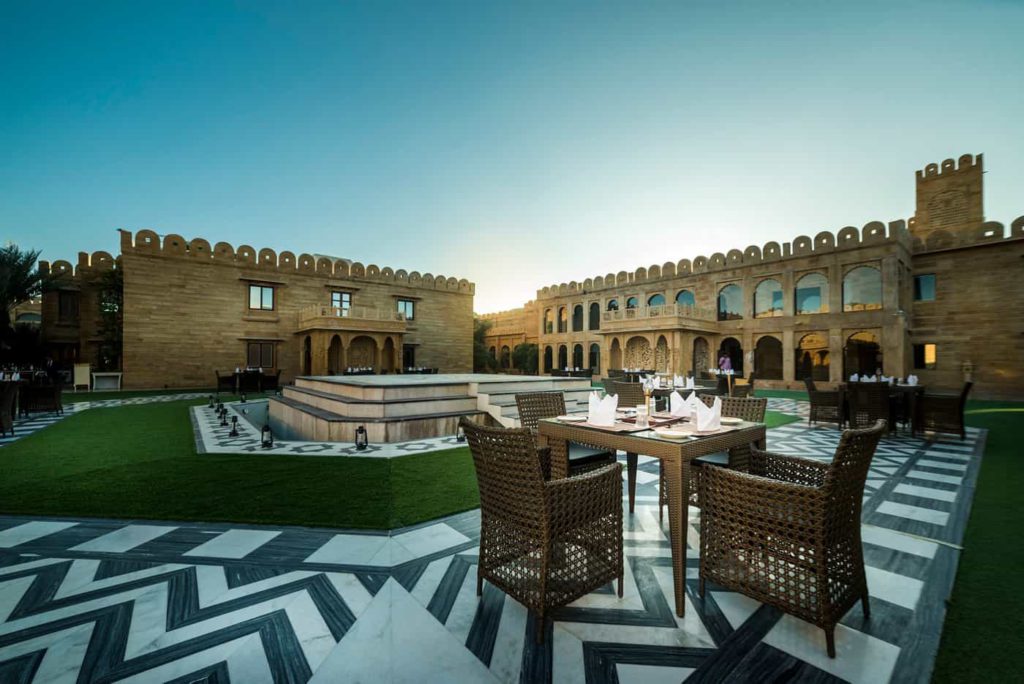 Banquet halls and conference rooms at Fort Rajwada have a cumulative capacity of 800 guests. So it's a win- win for a huge gathering. You can also opt for a desert or a palace wedding.
Rooms- 90 rooms, 4 mini suites and 5 suites
Cost per room- Rs 15,000 – Rs 29,000
Book here- Fort Rajwada
3. Gobindgarh, Jaisalmer
Gobindgarh Jaisalmer Hotel is one of the best hotels in the city, offering a luxurious retreat, which makes it perfect for a Destination wedding in Jaisalmer. The hotel is situated amid golden sand dunes and offers panoramic views of the desert landscape surrounding it.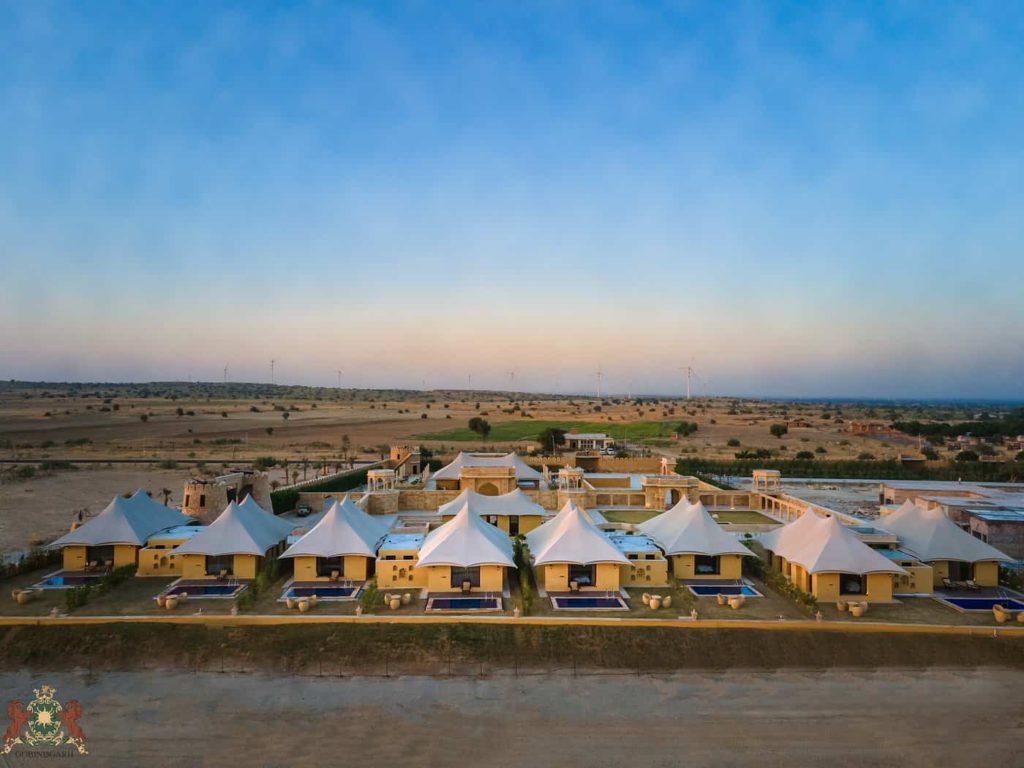 Exchange vows against the backdrop of the majestic sandstone walls, bask in the enchanting beauty of Jaisalmer's desert landscape at your destination wedding in Jaisalmer.
Rooms- 10 Luxury tents
Room pricing- Starts from Rs 55,000
Website- Gobindgarh
Also read- Top 19 luxury palaces and 5 star properties to plan a destination wedding in Jaipur
4. Jaisalmer Marriott Resort & Spa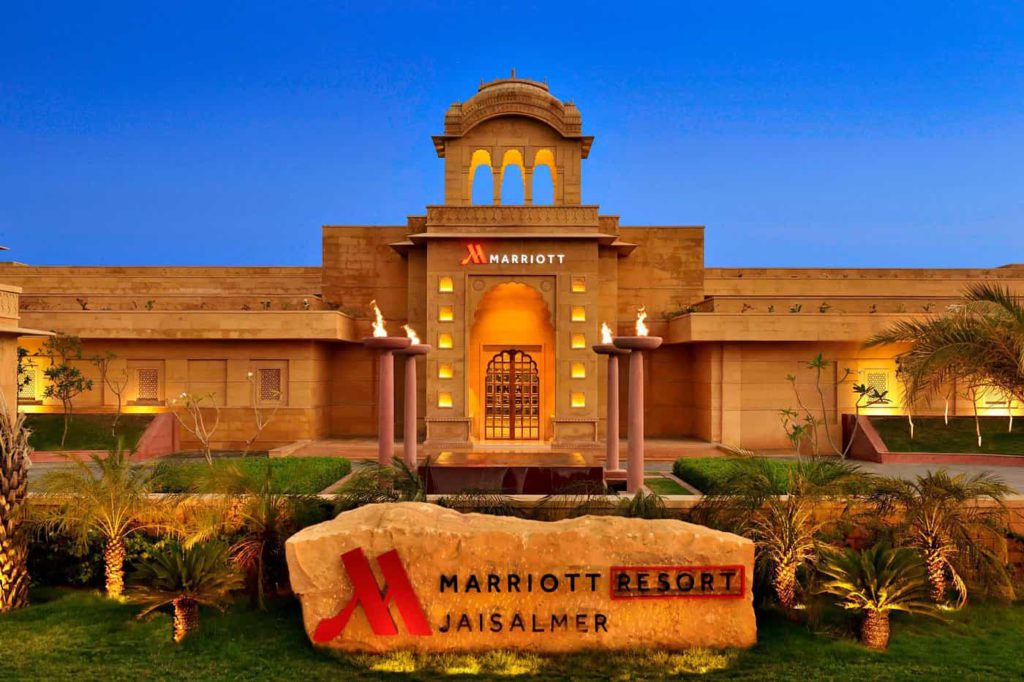 Marriott Hotel is one of the most luxurious hotels in Jaisalmer which offers all facilities needed for hosting a grand event. You can choose from their different suites which come with private balconies overlooking the majestic desert landscape, offering panoramic views of sand.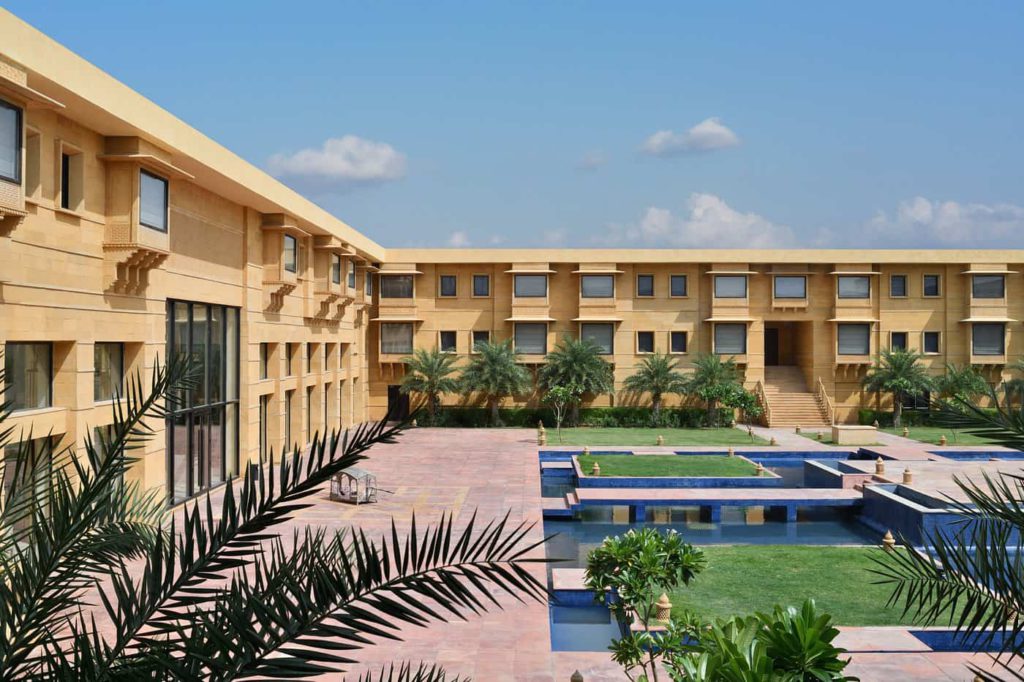 Built entirely with sandstone, the resort with restaurants features urban suites having seating spaces and balconies offering expansive desert and lake views.
Rooms- This luxurious desert property offers 135 exquisitely designed rooms and suites
Cost of room varies from- Rs 9,000- Rs 14,000
Check out the property- Jaisalmer Marriott Resort & Spa
5. Hotel Jaisalkot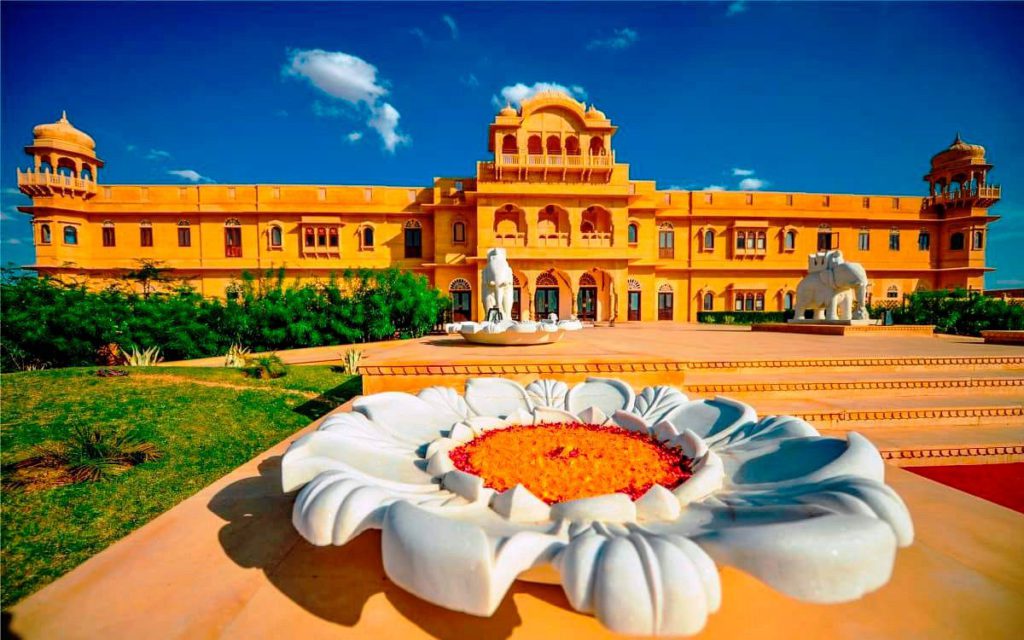 Jaisalkot – Hotel in Jaisalmer away from the hustle bustle of Jaisalmer. The ambiance is that of a lost world of royalty – quiet and elegant. Each room overlooks either the massive front Maidan or the vast desert scape.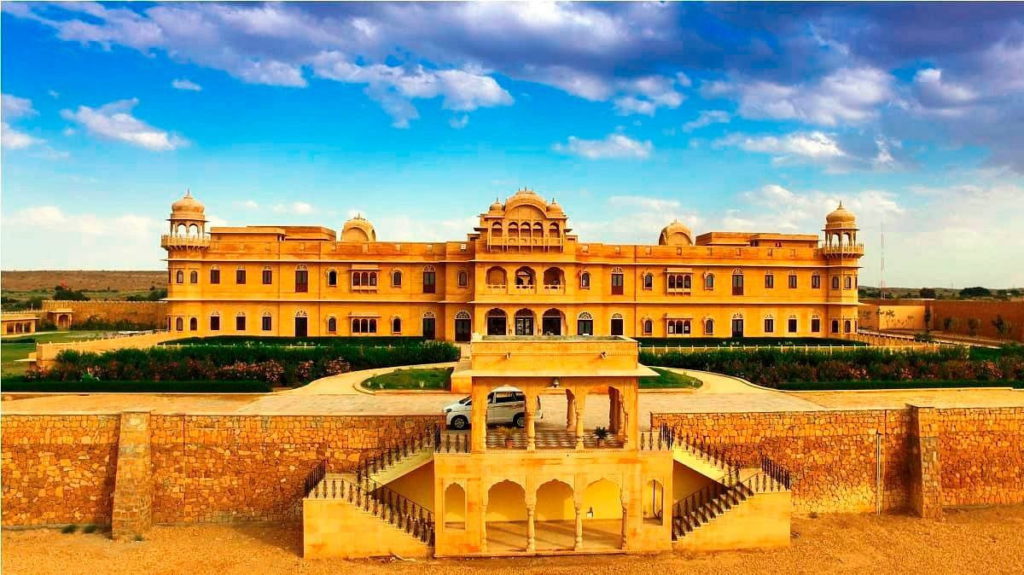 This hotel is located off Sam road, which connects Dhanana and Jaisalmer and leads to the famous sand dunes. The indoor banquet hall spans 2000 sq.ft with 4 acres of landscaped garden space for outdoor events and activities.
No. of rooms at Jaisalkot – 50
Cost of rooms at Jaisalkot –Rs 8,000- Rs 14,000
Book here- Jaisalkot
6. Saira Fort Sarovar Portico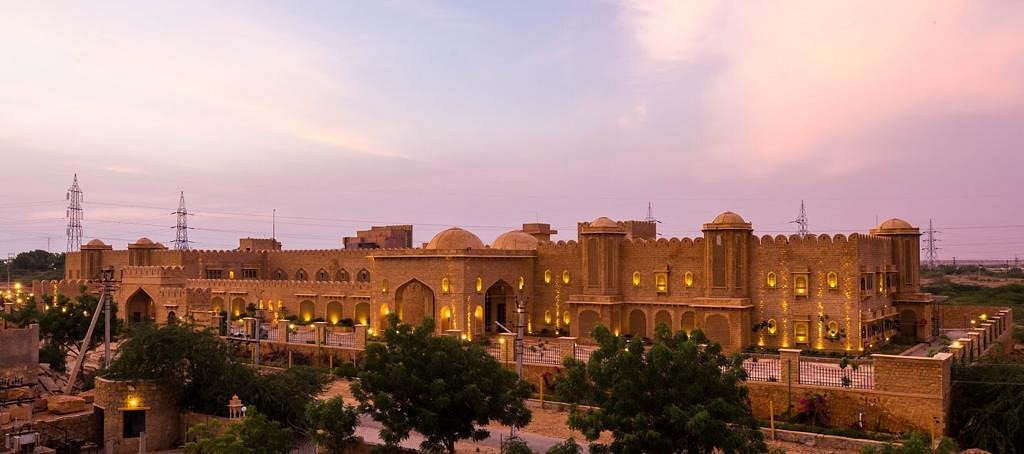 Saira fort is an exuberant location ideal for wedding, pre-wedding and post-wedding celebrations. Situated on the outskirts the city, away from the bustling noise, the venue provides a scenic backdrop for your big day.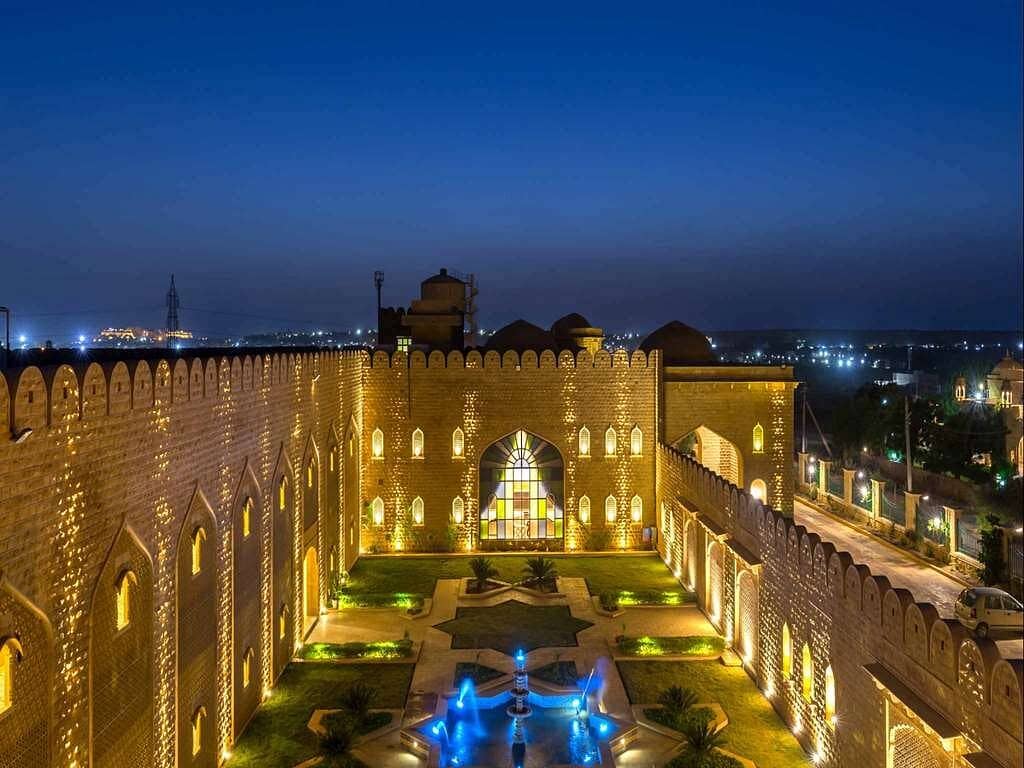 With a capacity to accommodate 500 people, this place is like a scenic bliss for your destination wedding.
Rooms-53 rooms & 6 suites
Cost of rooms at Sairafort Sarovar Portico ranges from- Rs 4,500 – Rs 7,000
Website- Saira Fort ,Jaisalmer
7. Welcome Heritage Mandir Palace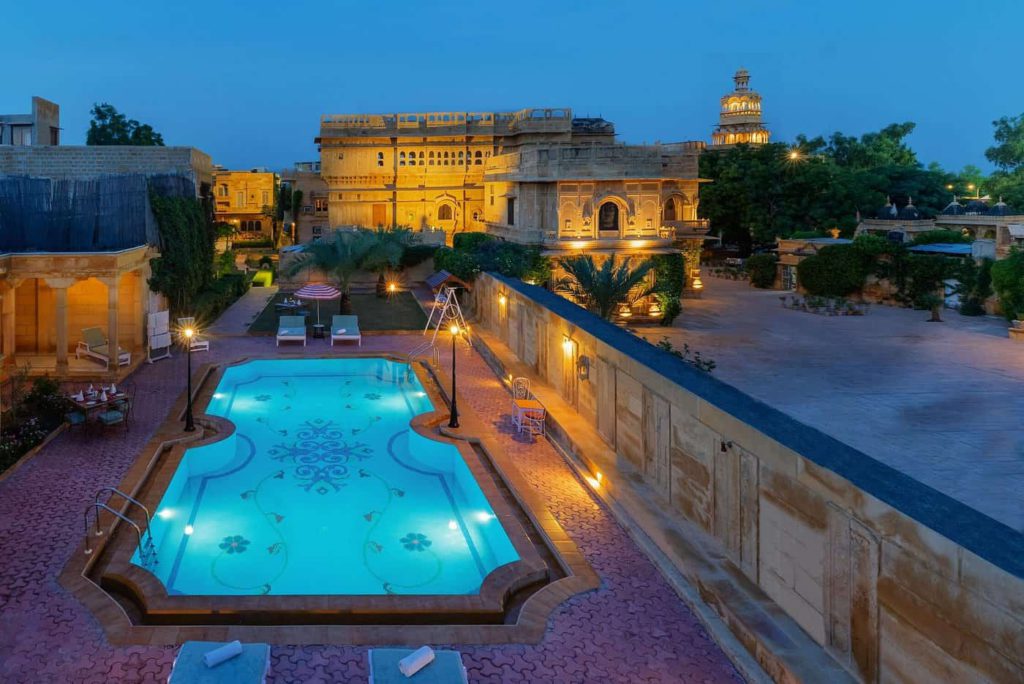 A two centuries old palace converted into a hotel, WelcomHeritage Mandir Palace offers a concoction of medieval charm with the modern amenities. Being wonderfully fitted with rich and authentic styled interiors, this property is perfect for your nuptial ceremonies, pre-wedding and post-wedding extravaganzas.
Rooms- 28(which includes 4 suites)
Cost per room- Rs 6,000- Rs 8,000
Website- Welcomheritage, Jaisalmer
Images Via- Tripadvisor