Shahpur Jat- A perfect wedding shopping destination!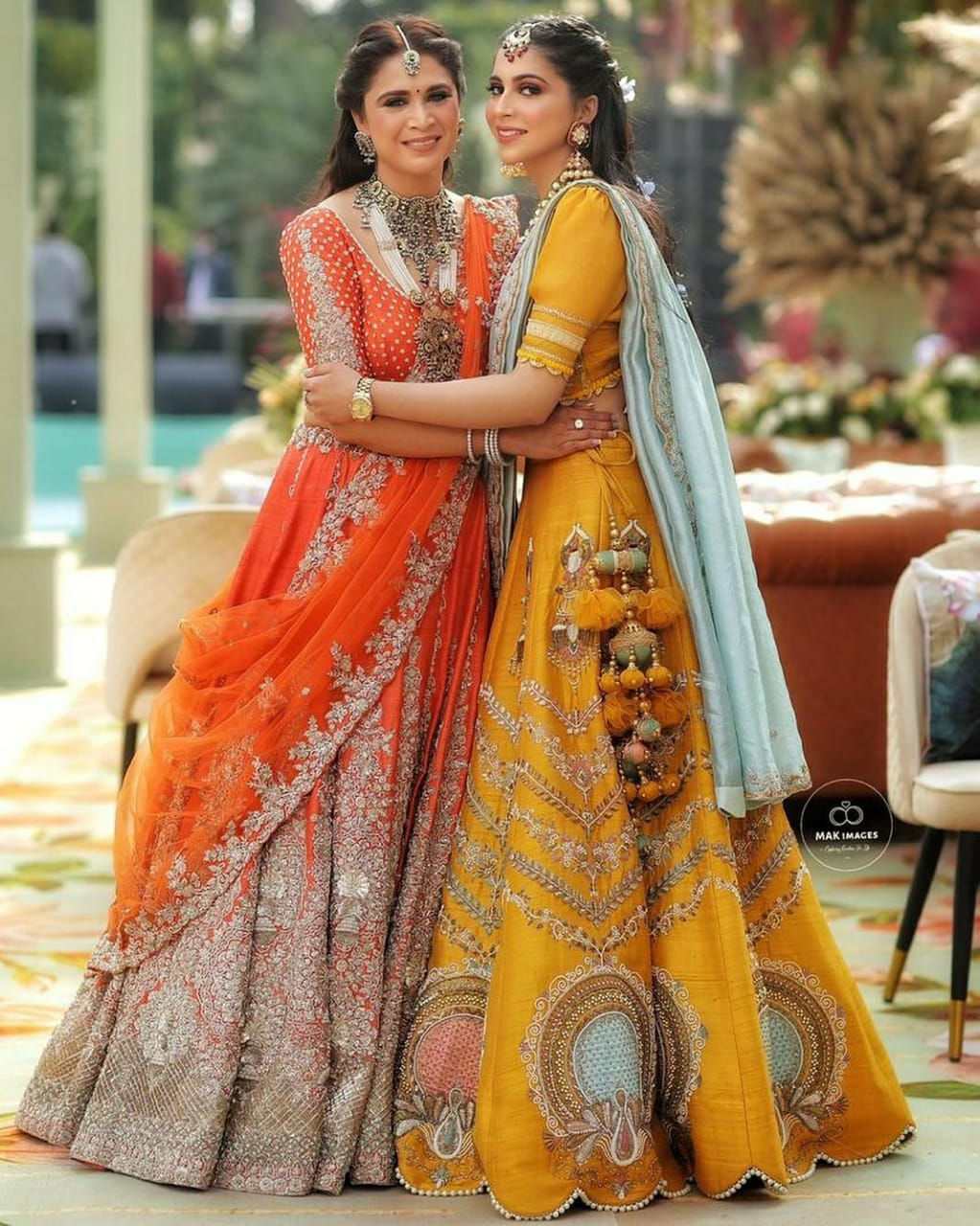 Wedding shopping can get quite taxing if one has to visit all the markets for the nitty gritties of a wedding but, what if you just have to go to one market and all your wedding needs would be fulfilled. Shahpur Jat is one such place in Delhi, where you would find everything from designer lehengas to juttis, embroidered clutches, floral jewellery, kundan jewellery, men's wear and much more. Shahpur jat started as a hub for budding designers, which is now a full fledged market with some designer stores and what not. 
We have laid out a road map of stores you must visit while shopping for your wedding.
Wedding lehengas at Shahpur Jat:
Gazal Gupta – Celebrities favourite Gazal Gupta couture is our favourite too. If you are looking for classic pieces for your wedding function, this is the store to check out. From zardosi to dabka work, you will find intricate embroideries with beautiful motifs on lehengas. They certainly have outfits for all your wedding functions.
Wedding Lehengas price range- Rs. 89,900 to Rs 1,89,900. They are also offering a 10% discount on their website.
Shop for Gazal Gupta Couture at- https://www.gazalgupta.in/
Avnni Kapur– Say Hello to colorful hues! Avnni Kapur is the perfect fit for a quirky bride. if you are someone who wants to make a statement at your mehendi or haldi function, Avnni Kapur is the perfect designer for you.
Ptice range for lehengas- Starts from Rs 30,000 and goes up to Rs. 75,000 (as mentioned on website)
Shop for Avnni Kapur outfits here- https://avnnikapur.in/
Shyam Narayan– The gota patti paradise at Shahpur Jat. Shyam narayan Prasad is fampouse for their fine gota patti and zardosi work. If you are looking for some traditional rajasthani work with beautiful prints and fabrics, you must visit this store. They offer a range of lehengas and suits, which can be added to your wedding trousseau.
Price range of lehengas- Starts from Rs.14,500 for lighter lehengas to Rs. 75,000 for heavier ones.
Shop here- https://shyamnarayanprasad.com/collections/new

Liz Paul – Specializes in gorgeous ethnic bridal wear with a modern twist. This is a perfect place for a millennial bride. We call it a glamorous affair! From rich earthy tones to vibrant silhouettes, you will find statement outfits for your wedding functions at Liz Paul. Located at Jungi House Lane, Shahpur Jat.
Price Range – Starts from Rs, 30,000 onwards for light lehengas, heavy lehengas start at Rs 60,000 and the wedding range is from Rs 1,00,000.
Agunj by Gunjan Arora– Chic and modern designs by Gunjan Arora would definitely make you go Awww! From quirky organza lehengas for your mehendi to heavy raw silk wedding lehengas, they have it all.
Shashank Arya– This store offers a wide range of outfits from shararas to cocktail dresses to lehengas. They have a contemporary style and offer an indo western range for the modern age bride!
Price Range for lehengas- Rs 27,500 to Rs 1,49,000.
Shop online- http://www.shashankarya.com/
Aum– At Aum they say- 'they are mehendi, sangeet and haldi outfit experts' and we totally agree with them. They make uniquely funky yet elegant ethnic outfits. Brides looking for some super quirky lehengas must check out Aum at Shahpur Jat.
Daddy's Princess by Priyanka Jain-Showcases a collection that reflects the beauty, elegance, simplicity and at the same time sensuality of a woman. Daddy's Princess has been specially curated for women who demand a sophisticated look with a fine taste of glamour and grace.
Price Range for lehengas- Rs 34,650 and goes up to Rs. 1,50,000
Shop online- https://www.daddysprincesspj.com/collections/lehngas
Bhumika Grover– Another gem in the lanes of Shahpur Jat, Bhumika Grover has beautiful sarees and chikankari ensembles. A must visit place for the bridesmaids and for bridal trousseau shopping.
Price Range for lehengas- Starts at Rs. 43,500 to Rs. 86,500
Shop online at- Aza Fashions, Carma Online
Ose by Jyoti Gupta – A bridesmaid's haven! Shop for indo-western outfits at Ose label. They have a store at GK as well as Dada Jungi House at Shahpur Jat.
Manvi Kapoor– If you are someone who likes mirror work or colorful panel lehengas, this is your place to be at. Manvi Kapoor offers a vivid range of colorful outfits, perfect for mehendi or sangeet functions.
Shop online- https://manvikapoor.com/
Preeti S Kapoor
Faize-e-Noor– If you are looking for Banarasi sarees and lehenga, you must visit Faiz-e- noor at Shahpur Jat.
Men's Wear at Shahpur Jat
Philocaly – From tuxedo's to Indo-western pieces and statement jackets, you will find everything at Phiocaly. A paradise for the millennial groom or groomsmen.
Shop online- https://philocaly.in/
Chatenya Mittal – Get bespoke nehru jackets and statement kurtas. Chatenya Mittal has a range of luxury menswear and womenswear. If you are looking for some resort wear for your holidays, they sure do have an awesome range of it.
Shop online at Aza Fashions and Pernia's pop up shop.
Qbik- is all things glamorous! Offers a wide range or contemporary men's and womenswear.
Shop online- https://qbik.in/
Bhavya Bhasin– Situated at Gora Street Lane at Shahpur Jat, they offer a wide range of bespoke menswear. If you are looking for pastel sherwanis or drape kurtas, this is the store to visit.
Megaan– A multidesigner Fashion & Lifestyle concept store curating gifts and hampers, Ensembles and accessories and wedding essentials.
Shop online- https://www.megaan.in/
Sulakshna Jasra– Get your hands on statement jackets at Sulakshna Jasra, located at Outer Road at Shahpur Jat.
For wedding jewellery, you must check out these stores at Shahpur Jat-
Preeti Mohan– If you are looking for royal neckpieces or statement earrings, you must visit Preeti Mohan at Shahpur Jat.
Shop online- https://www.preetimohan.com/
Suhana Art & Jewels– A fashion influencers favourite, you cant miss Suhana Art and jewels if you visit Shahpur Jat. They have the most exquisite and trending jewellery pieces plus you can get them customised too.
Prune India– India's First luxury label for Bespoke Floral Jewellery. We are in aww their floral jewellery, if you are planning to make a statement at your mehendi or haldi ceremony, you must check out their floral jewellery.
Embellished footwear and bags
Falah_Inc– At Falah you will find handcrafted luxury hand bags, designer clutches and Jutties. Match a pair of juttis with your lehenga and stay comforatble while you dance the night out!
Shilpsutra – Head to Shilpsutra for those traditional handcrafted and customised juttis! Pair them with your mehendi or sangeet lehenga to add a touch of glam and if you are soeone who is all about wearing comfortable footwear, you should definitely pay a visit at Shipsutra whie you are at Shahpur Jat.
We have added information about all the stores that we love at Shapur Jat, most of them have an online store or sell through social media. So fret not if you are from other city, you can still buy these lovely designer pieces for your wedding.
Fashion Updates:
For fashion updates and wedding inspiration, follow us on-
Instagram: Shaadifever
Facebook: Shaadifever
To get featured on our blog, mail us your wedding story at [email protected]