Supermodel Naomi Campbell on the Cover of Vogue India. Check out the March- April Issue.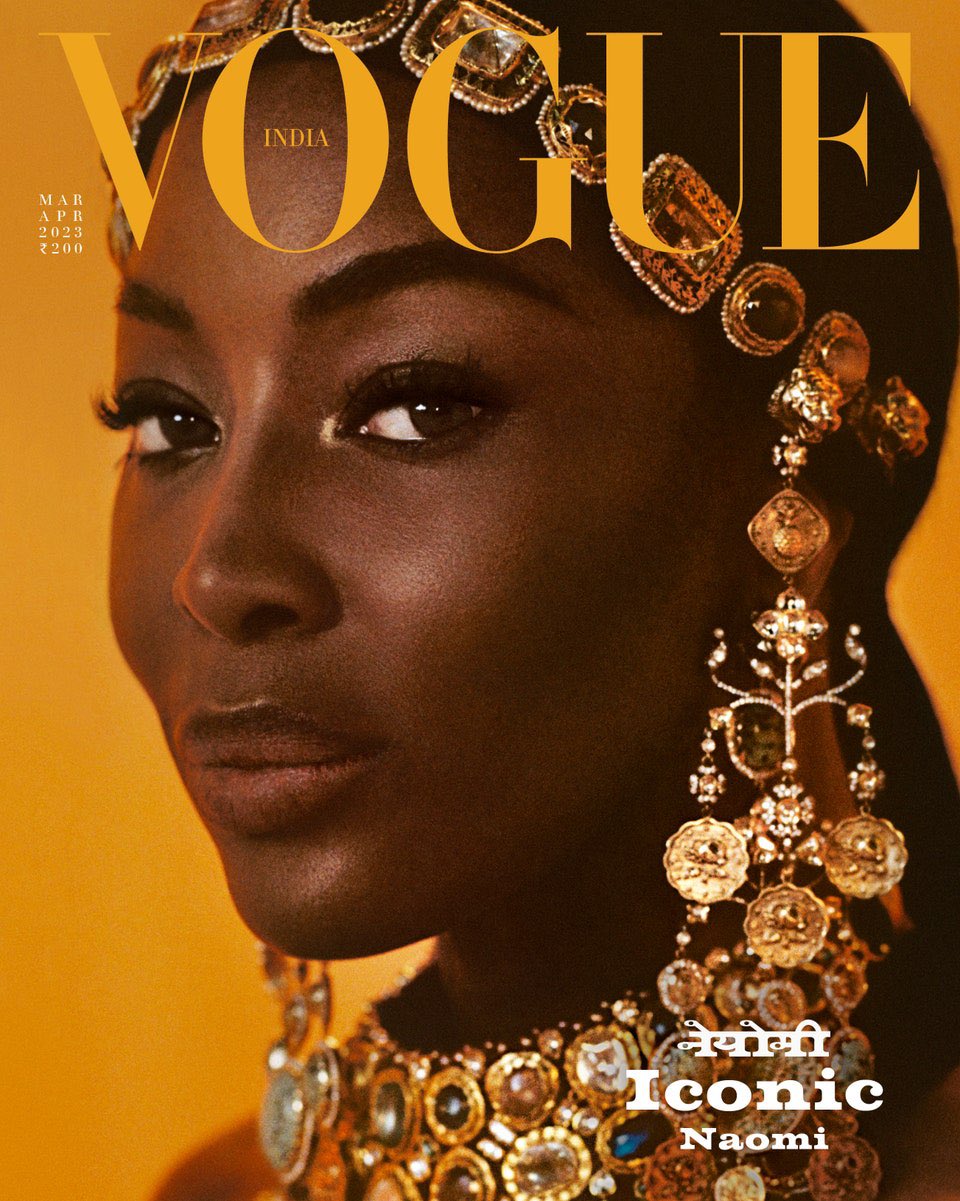 Naomi Campbell on the cover of Vogue India, talks about her relationship with India, yoga and her favourite Indian jewellery brands.
In a new cover story for Vogue India's March-April issue, catwalk veteran Naomi Campbell meets with writer Shriya Zamindar. During their conversation, the supermodel discusses her new legacy, wearing saris and knocking on fashion's doorstep for a cultural reckoning. 
On learning yoga in India, Campbell says:
"The second time that I ever travelled alone in my life, I went to Trivandrum. I went there in 2012 to learn about yoga. I saw yoga being done in all these different ways, for different purposes. But I specifically wanted to know how to find this triangle of peace. I wanted to go to the source and teach myself. I stayed there for a month and put my phone in the safe. There were only two people who knew how to contact me. I immersed myself in the experience and I loved it."
Campbell on walking the ramp to support India after the 2008 Mumbai terror attacks:
"Back then, when I came to India, I had walked to raise funds for ambulances—this was right after the attacks in Mumbai—so it was a meaningful purpose for me to contribute to that."
Sabyasachi Mukherjee tells Vogue India about his memory of dressing Campbell back in 2009: "I was approached by IMG to dress Naomi in one of my outfits, and for an icon like her, there's nothing more iconic than the sari. The strength, beauty and power of her presence fit perfectly with a glamorous black sari. And learning about the super model while he was studying fashion: "Naomi's presence—be it on the ramp, in music videos and campaigns, or even in Madonna's controversial book Sex (1992)—remains timeless and memorable. She is a global icon, so it's always special to work with someone like her."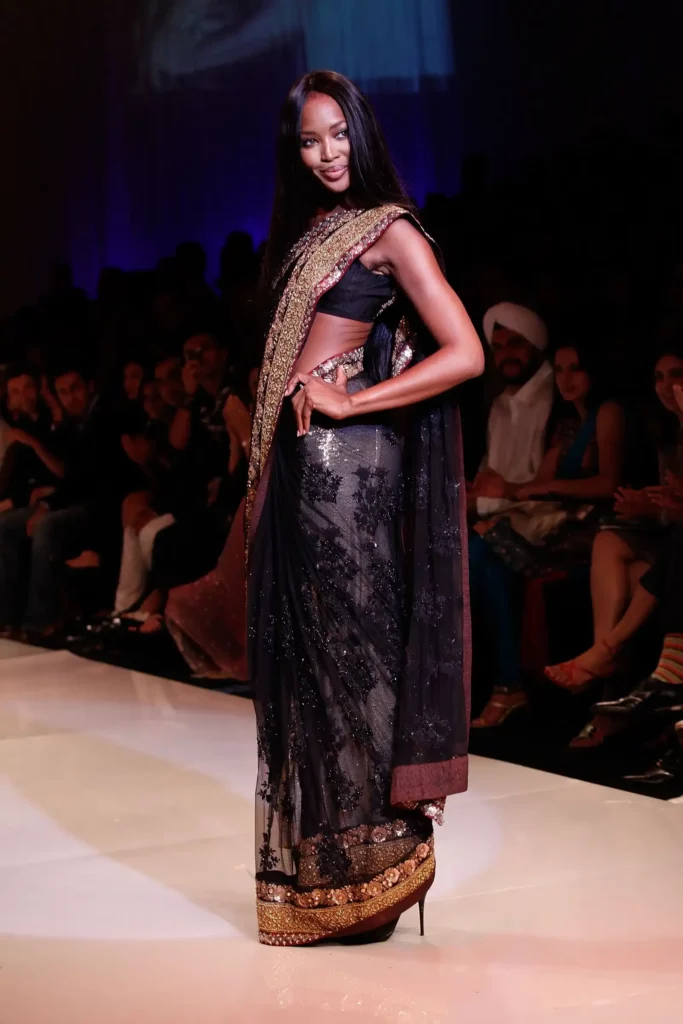 Campbell on her relationship with the sari:
"I love wearing a sari. I've worn them hundreds of times whenever I've come to India and I will always wear one whenever I come to the country." 
On Indian jewellery and what it represents:
"I have quite a bit of Indian jewellery that I have collected over the years. I normally don't wear any jewellery, but I've bought so much in the past. It's not just the front of the jewellery that I like, but the intricate detailing that India does behind the necklace. These are beautiful details, and we just don't see any of this workmanship anywhere else. I love things that are authentic and hold meaning. I love wearing emeralds, my birthstone, and I love collecting jewellery that is meant for protection and for well-being—especially when I'm in India. I have bought some while I was in Jodhpur, and then some in Jaipur and Mumbai."
In 1988, at the age of 18, she became the first Black model to bag a French Vogue cover. 
French Vogue, August 1988

Naomi Campbell made history by becoming the first black model to Grace the cover of French Vogue pic.twitter.com/qOdjnu8W4w

— Kamea ☆ (@PonDeRunway) May 10, 2022

Read the full cover story, 'Crowning Glory' by SHRIYA ZAMINDAR in VOGUE India's March-April issue, on stands today and on Vogue.in
Also read- Athiya Shetty and KL Rahul are a perfect match and we absolutely in love with them!