Vogue Beauty Festival 2021: Katrina Kaif to Alaya F and Dia Mirza, celebrity beauty and health experts to be a part of this virtual celebration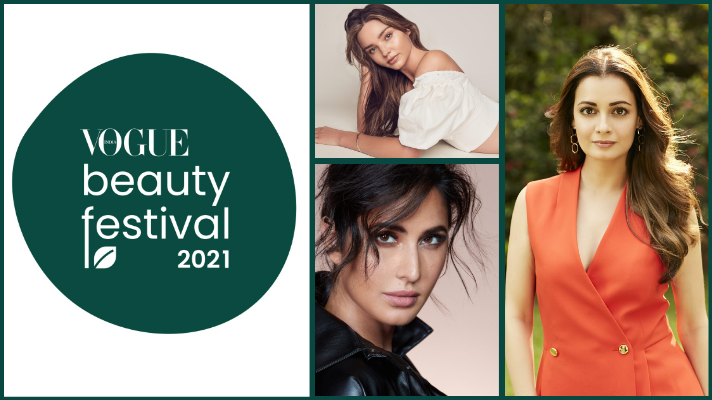 Brace yourselves ladies! Its time to witness The Vogue Beauty Festival 2021, a 4 day makeup and wellness soiree. The much-awaited festival is all set to allure and inspire the masses with international masterclasses, beauty and holy grail videos, health and wellness regimes, fitness tips, skincare, makeup, haircare and more.
The Vogue beauty festival 2021 will enchant everyone from the 29th of July to the 1st of August.
This year the festival is even more distinctive as beauty heroes who courageously stood up for all of us will be honored. The warriors who helped and motivated the world to maintain tranquility amidst the storm to the brands and products that lifted us up, all of them will be in the spotlight as we honor them.
The noteworthy part is that the winners will be selected through voting.
All the days will be graced by leading ladies like Lisa Eldridge, Mary Helen Bowers, Katrina
Kaif, Alaya F, Dia Mirza, Dr.Uma Naidoo amongst many others.
Also read- Ideas to steal from Shilpa Shetty's wardrobe
From pro makeup artist and founder Lisa Eldridge to beauty entrepreneur Katrina Kaif, Dia Mirza and Gen Z superstar Alaya F would partake in this virtual edition. The lineup seems quite promising and you should definitely not miss it!
Here's the schedule for the Vogue Beauty Festival 2021:
The four days will be super enthralling and will help the masses make conscious and sustainable steps towards a better life.
DAY 1 , 29th July- would enchant the town with discussions on Makeup and Fragrance, with beauty tutorials, focus on sustainability and much more
DAY 2, 30th July: will centre around the theme of Health and Nutrition and will feature experts like Luke Coutinho etc.
DAY 3, 31st July-, will witness sessions specially focused on Fitness where the guests will enlighten the masses with custom workouts and hidden secrets and tips relating to fitness.
DAY 4, 1st August- brings in discussions about Skincare and Hair, where experts will share words of wisdom and secrets to fabulous skin and hair health along with debunking myths.
Ladies, it's time to take some notes and learn from the experts.
Fashion Updates:
For fashion updates and wedding inspiration, follow us on-
Instagram: Shaadifever Facebook: Shaadifever