30+ stunning D.I.Y decor ideas for intimate wedding celebrations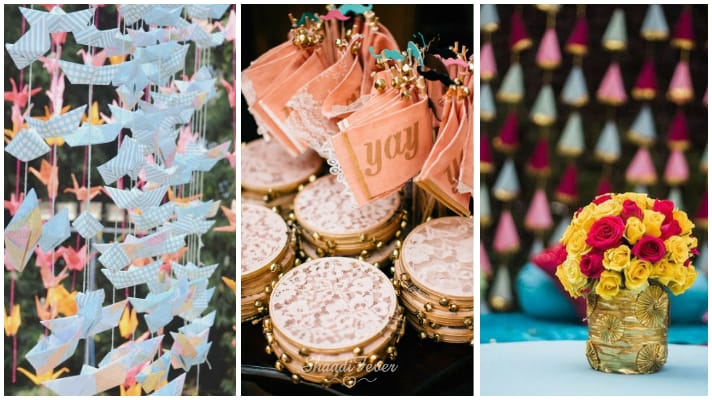 The world is going through a crisis situation and we as citizens should try and do our best to not add on to it. Due to cover -19, weddings are now be a super intimate affair, where the ideal venue is your home. We have some amazing tips which would help you jazz up your abode for your big day. So its time for some D.I.Y decor for your wedding celebrations!
D.I.Y quirky gota and floral centerpieces
Things required:
An old banarsee saree or brocade fabric
A wooden base or tray
Mason jars/ vases or glass bottles
Artificial flowers or real ones
Tealight candles
Fairylights
Use the brocade fabric as the table spread, add the wooden base or any tray to the centre and arrange your mason jars and vases over it. Place flowers in the jars and give it a final touch by adding tea light candles and fairy lights to it.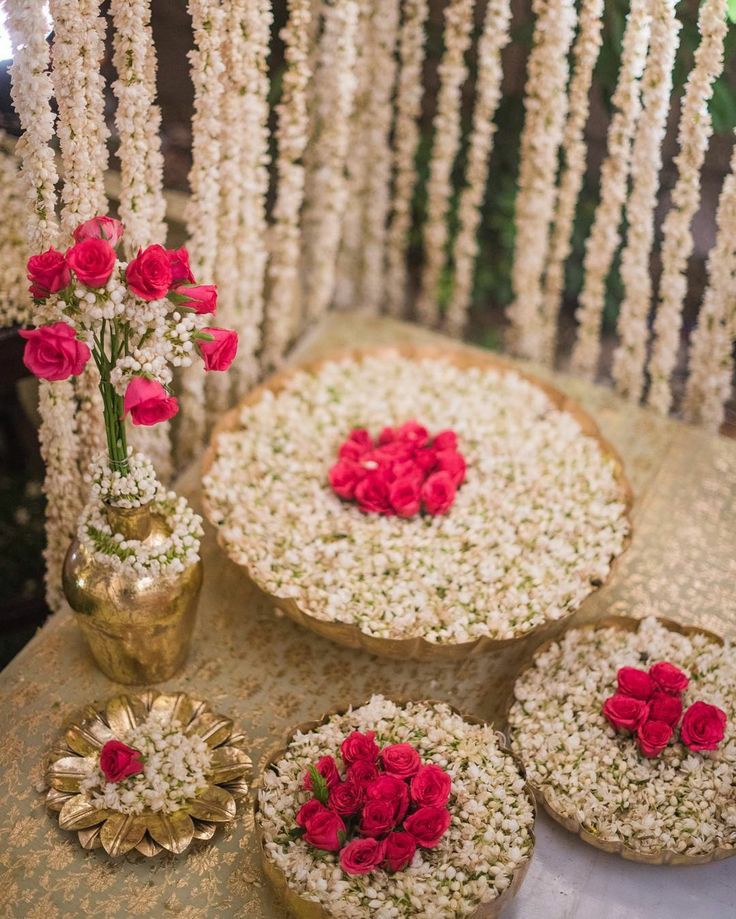 Pro-tip- Make sure all your jars are not of the same size, try and create dimension by using different sized jars , for an added appeal. Make sure you use your best crockery.
D.I.Y stunning Backdrop ideas!
The best and easiest way to create a backdrop with minimum materials would be to reuse old dupattas from home, add some fairy lights. Viola! you have a perfect backrop.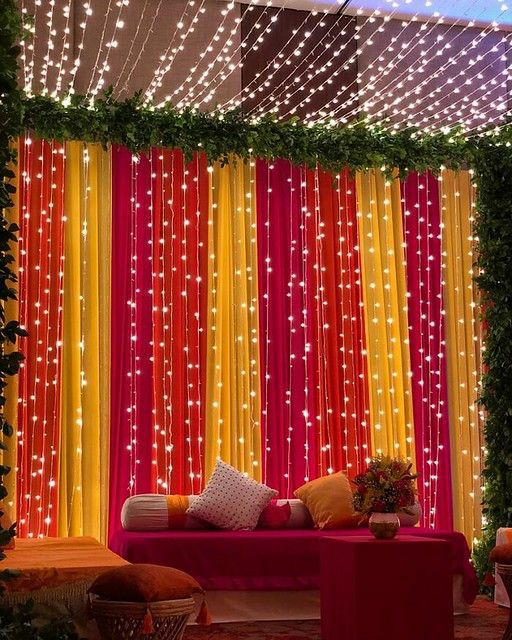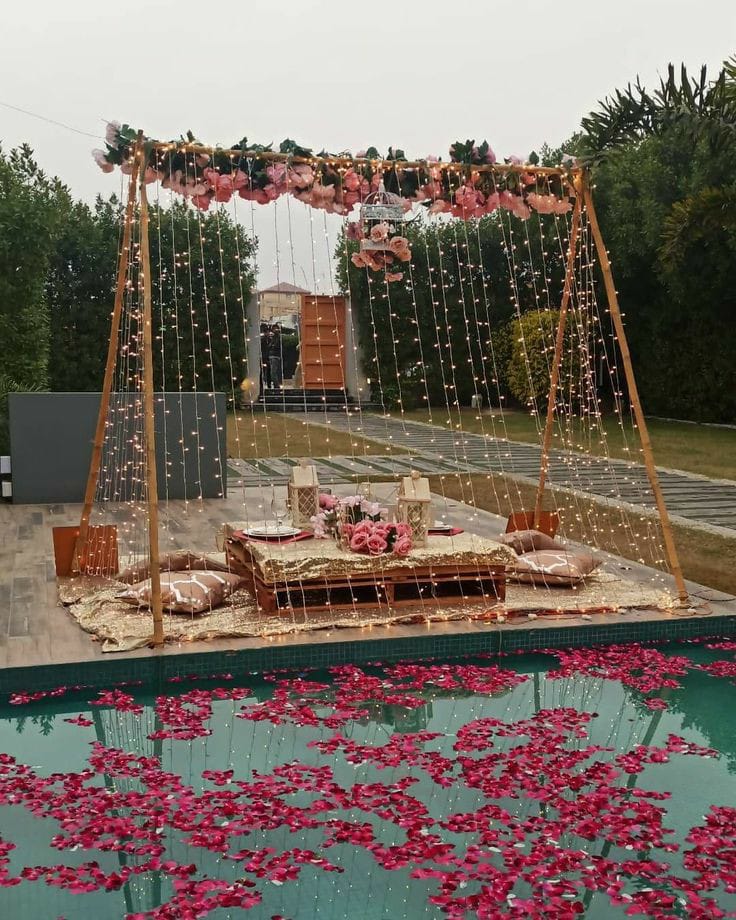 Who doesn't love a bright and colorful backrop. Use kites, pinwheels or paper fans to make a mehendi setup.
Marigolds are our all time favourite, make these cute string with some gota or pictures to create a beautiful backdrop.
Create a boho dream catcher with marigold flowers.
A dream catcher can spice up your wedding decor, D.I.Y is with embroidery loops, add some marigold flowers or gota. You can use pom poms to add a colourful touch to it.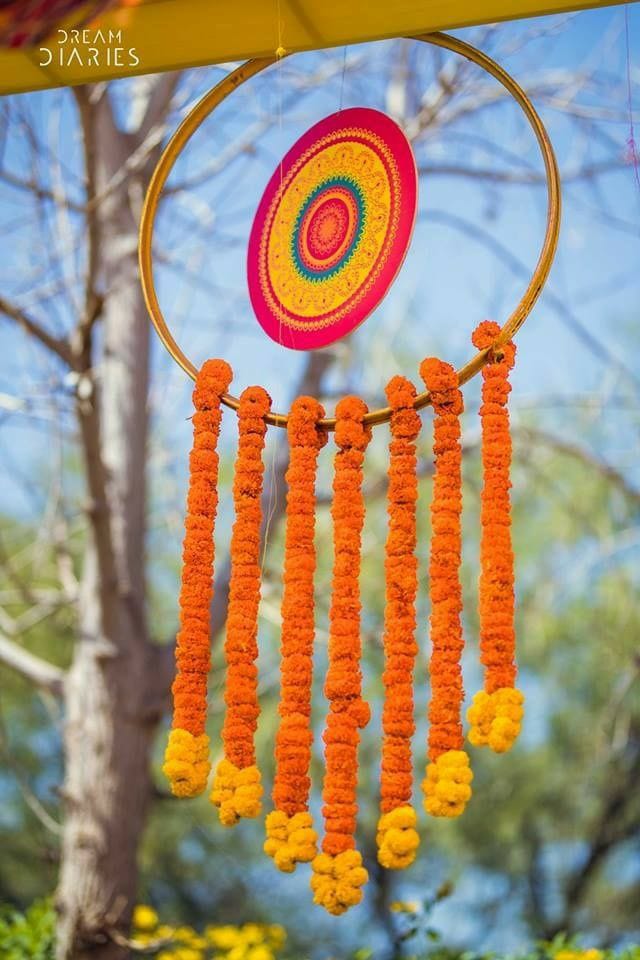 Create a fun backdrop with origami. There are tons of tutorials to make these cute birds and who doesn't know how to make paper boats. This is such a cool D.I.Y decor. Add this to your home mehendi setup for a quirky vibe.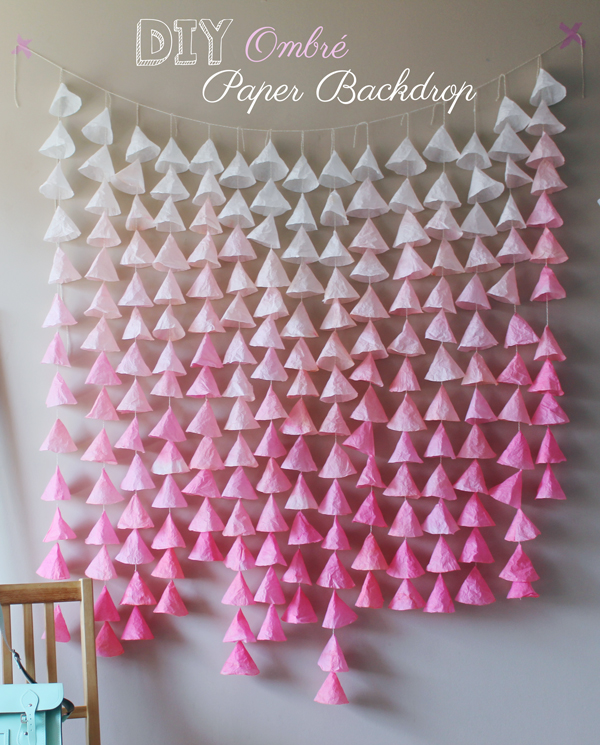 Follow step by step instructions to create an ombre paper backdrop.
Youtuber Jaimi created a gorgeous setup for her mehendi ceremony. Here are some useful trips and trick to D.I.Y your own wedding decor.
Aren't these tassels a perfect addition to your home D.I.Y decor . Make these with wool or macrame thread and hang them with strings . These bright colours would definitely add a boho charm to your decor.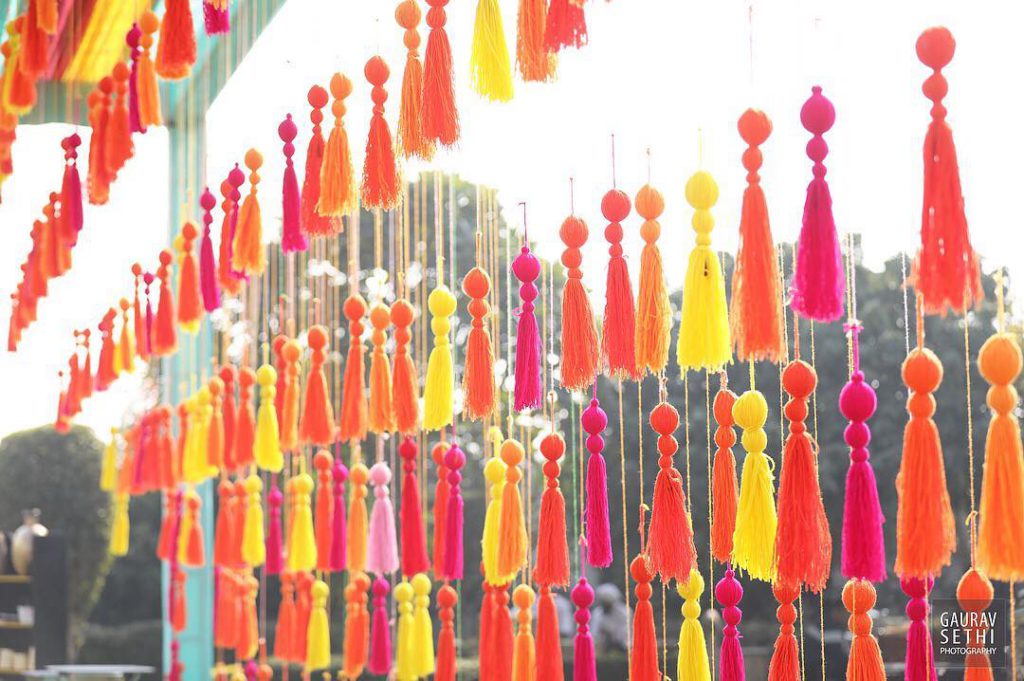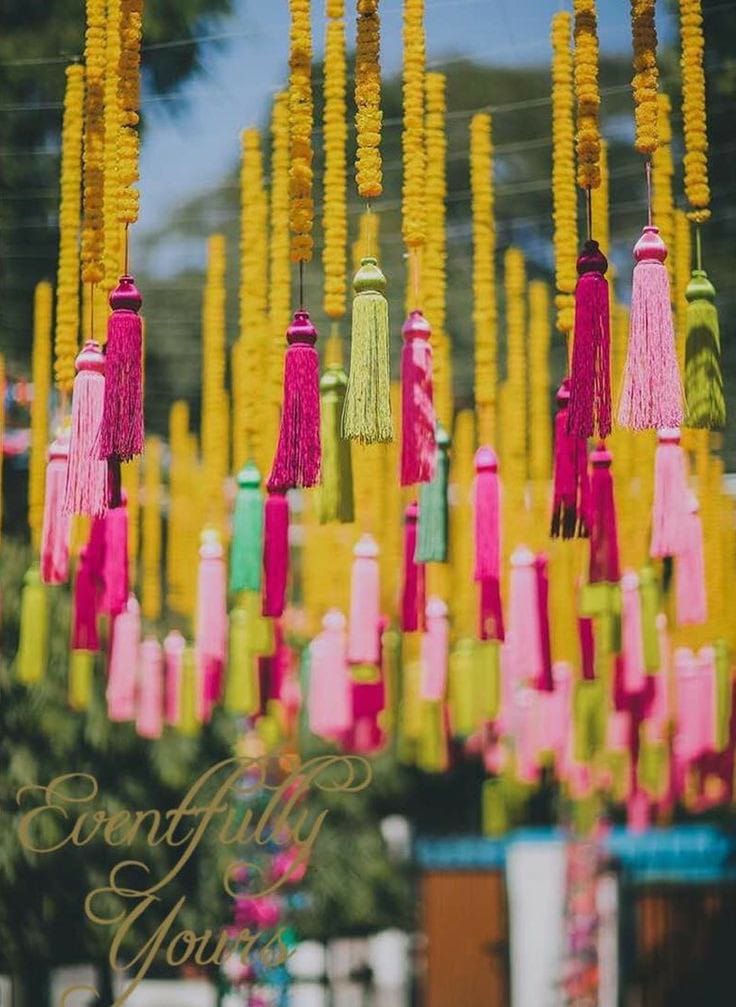 Welcome board!
Make a welcome board using some coloured chart papers and markers. D.I.Y a photo booth using these ribbons or tassels.
DIY decor using waste glass bottles.
Don't we all have those empty bottles, lying around the house.. Paint them with acrylic or chalk colours and add some flowers to them. You can hang them by a string and create a backdrop or use them for a table setup by adding candles to them.
Tepee time!
Create a magical tepee for your at home mehendi or a date night.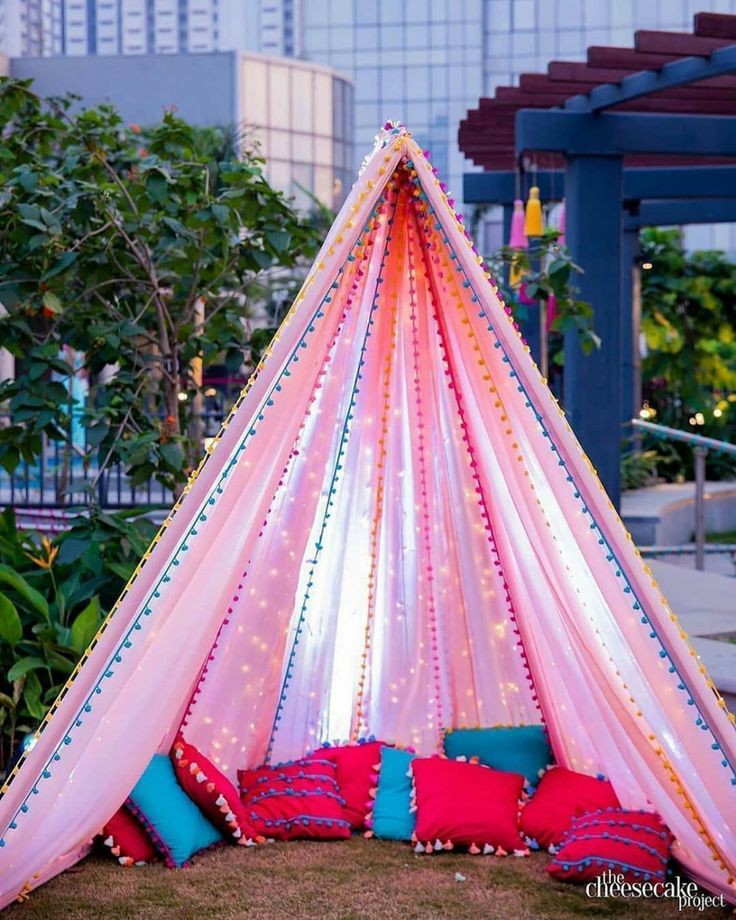 Did you know that siting up a tepee was so easy! Follow this tutorial to make a wonderful date night canopy setup.
Read more- Trendy mehendi outfits to bookmark this season
Use these floral cones to fill flowers for jaimala or use them to accentuate your decor. These can also be used for handmade giveaways, add some condiments to these cute cones for your wedding guests.
You can also create such cute lace frames as a special wedding favor.
Make the most striking rangoli
One of the perks of being an Indian woman is that you have a fairly good idea about rangolis and might have even made one on Diwali. Create a gorgeous floral rangoli for your D.I.Y decor at home.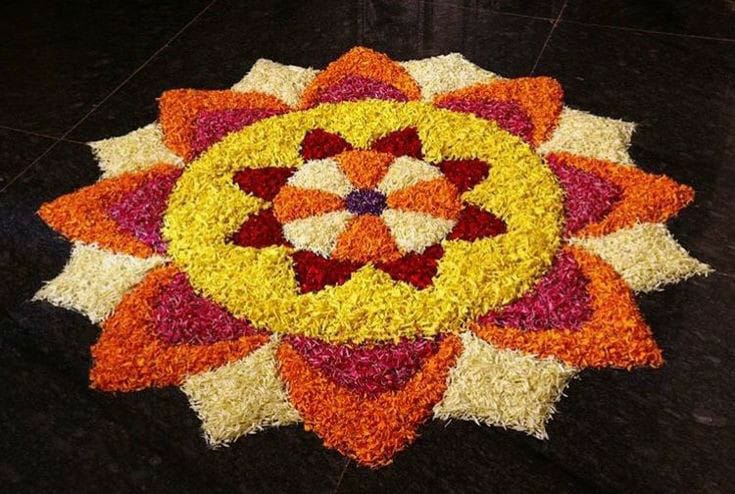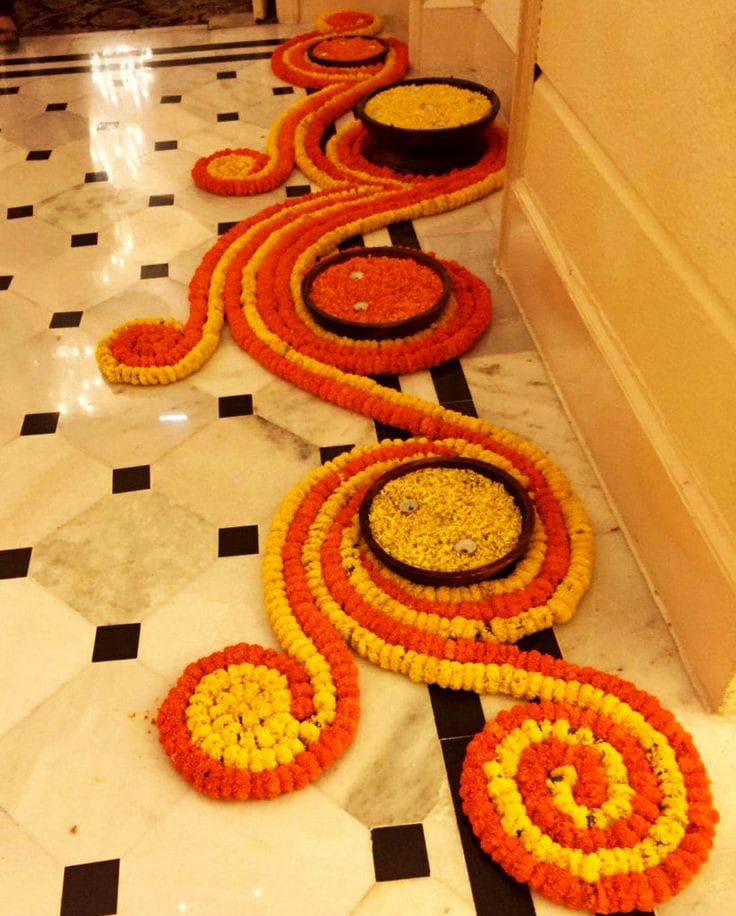 **All pictures belong to their respective owners. No copyright intended only for inspiration purposes.
Do try these easy D.I.Y decor ideas and mail us your wedding pictures at [email protected]
Fashion Updates:
For fashion updates and wedding inspiration, follow us on-
Instagram: Shaadifever Facebook: Shaadifever