Let's go back to the 80's!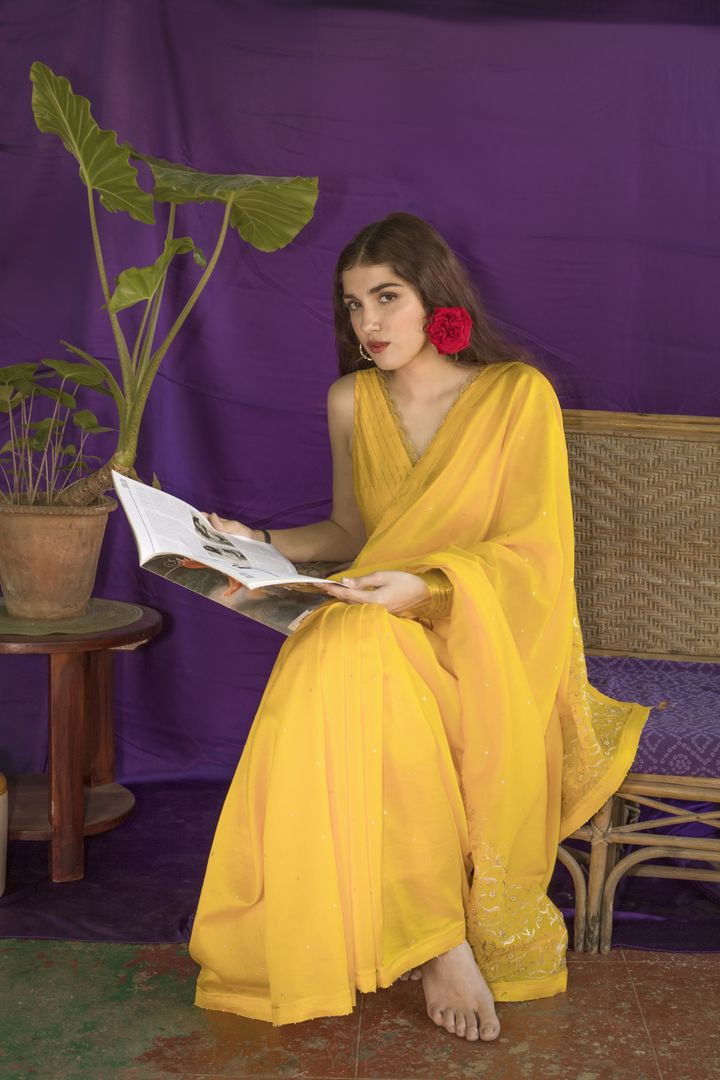 A designer collection inspird by the 80's! From chiffon sarees to poofy sleeves, the 80s was the era of impeccable style and glam! Rekha ji to Jaya Bhaduri, their quintessentioal sense of fashion, made 80's an iconic era. Our retro divas managed to changes the face of the Indian fashion industry with their impeccable style that glamourized ethnic wear.
About the designer:
Born in Machination, Lakshmi Deepthi Pothineni received formal training in Indian classical music and dance. She developed an appreciation for various forms of art since childhood. After graduating from business school, she landed a coveted marketing job in Bengaluru.
"I thought I was doing my dream, and then I realized that the corporate world was just so stifling to me," Lakshmi explains. She felt creatively starved and wanted to rediscover herself.
Lakshmi moved to the US and studied fashion at the reputed School of the Art Institute of Chicago (SAIC). During her final semester at SAIC, Lakshmi created "Threads of freedom" a mystically beautiful apparel collection in which she experimented with a traditional form of Indian craft known as Kalamkari. "Threads of Freedom" received rave reviews at the Hard Rock Fashion Show and Kenmore Fashion Studio.
Lakshmi interned with Chicago based designer Katrin Schnabl and subsequently started working as a freelance designer. She started her journey as an entrepreneur in 2012 after moving back to India.
– Tollywood
– Exhibitions
– Collections at various stores in Hyd and Delhi
Worked for movies designing costumes for Raashi khanna, Keerthy Suresh for Nenu Sailaja and currently Designed for a movie starring Ram Pothineni with Malvika Sharma and Nuvetha Peturaj for Red.
Available at some of the top Multi Designer stores Like Store Anonym , Oggan Delhi
Latest Collection:
Silsila is a retro tale of love by Lakshmi Deepthi Pothineni. Collection is inspired by the turkish motifs. Jewel stones and look from the 80's cinema is bringing the old with the new wearing the memories of future with the past.
Inspired by the Turkish motifs we have incorporated the detials in the form of embroidary very intricately some with Resham, beads and zari.
We focus on fine finishing of the garments with hand finishes.
Chanderi silks ,pure organzas, chiniya ,tissue and cottons are mainly used.
Most flattering dresses by Lakshmi Deepthi Pothineni featured in Silsila. To bang on trend and never go out of style. Make head turns with retro style statements as bold is what you prefer to have, simple yet powerful look.
Let's peek into some gorgeous retro outfits that will make you look no less than a diva. The new collection Silsila by Lakshmi Deepthi Pothineni is all set to break the monotony with effortlessly sumptuous looks. Chanderi silks, pure organza, chiniya, tissue and cottons are mainly used in this collection.
For fashion updates and wedding inspiration, follow us on-
To get featured on our blog, mail us your wedding story at [email protected]