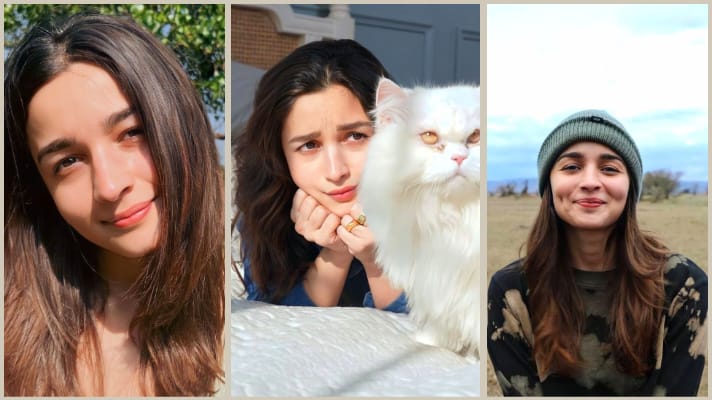 Without a doubt Alia Bhatt is a true superstar. From her debut in Student of the Year to her spectacular performance in Gangubhai, she has always grabbed eteballs for her stellar performances. It's not just her acting skills but her flawless skin too, that cannot go unnoticed, with minimal makeup looks to no makeup selfies. Alia Bhatt is a queen of glowing face selfies. Today, on the occasion of her birthday, we would like to take a look at Alia Bhatt's flawless no makeup selfies!
Alia Bhatt 's selfie game is always on Point
This picture of Alia Bhatt and siste Shaheen is true skincare goals. Have you seen her skincare video on youtube yet? Here is a link to the much talked about video- Alia's youtube channel
The actress shared a picture from her Sunday afternoon which looked gorgeous as Alia looked radiant in the sun while adoring her cat Edward.
A sun-kissed picture of Alia, which grabbed our attention was when she took a vacation abroad in the summer. Wearing a strappy blue dress with golden hoops and statement gold rings, Alia let the sun rays fall radiantly on her dewy face.
Also read- Alia Bhatt 's stunning wedding ensembles are a fashion playbook for a bride to be!
Alia Bhatt's sun-kissed selfie with purple calla lilies and a lilac outfit is just so gorgeous!
Peachy blushing cheeks with no makeup is totally Alia's way to take selfies.
The glow though! She certainly knws how to take care of her skin we are in awe of it!