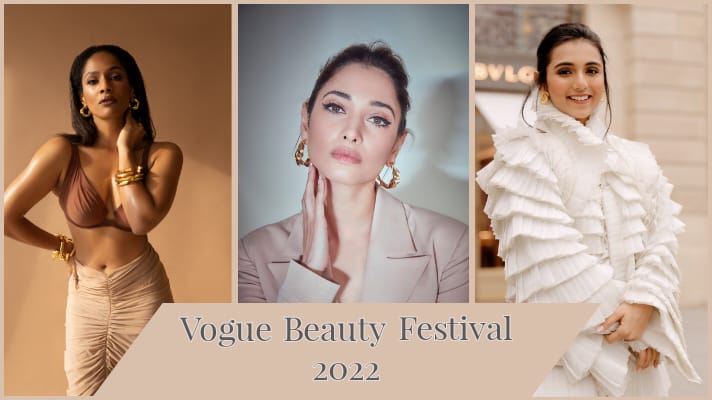 Vogue India's third virtual beauty festival was the place to be! From skincare tips and tricks, makeup hacks and advice from industry, the four day virtual soiree had it all! The Vogue Beauty Festival 2022 happened between 28th July 31st July. The annual event paid homage to wellness, self care and most importantly self- love through an exciting schedule that left no stone un-turned. With an eclectic mix of masterclasses, beauty school videos, tips on wellness, fitness, health and nutrition, skincare, makeup, hair, the festival incorporated everything the industry has to offer and much more.
Vogue Beauty Festival 2022
The masterclasses, tutorials, and talks were led by some of the industry's eminent and most loved personalities, both in the country and internationally.
"The line up this year is a fabulous amalgamation of east meets west through an array of videos that celebrated the Indian essence. We cover Ayurvedic DIY treatments, celebrity routines, to dance and fitness, as well as a mixed bag of makeup tutorials that ranged from the classics to the fantastical. There's something for everyone," says Megha Kapoor, Head of Editorial Content, VOGUE India.
Going down a slightly different route from its predecessors, #VBF22 was the ultimate destination for all things beauty and wellness, tailored to its Indian audience.
Masterclasses at Vogue Beauty Festival 2022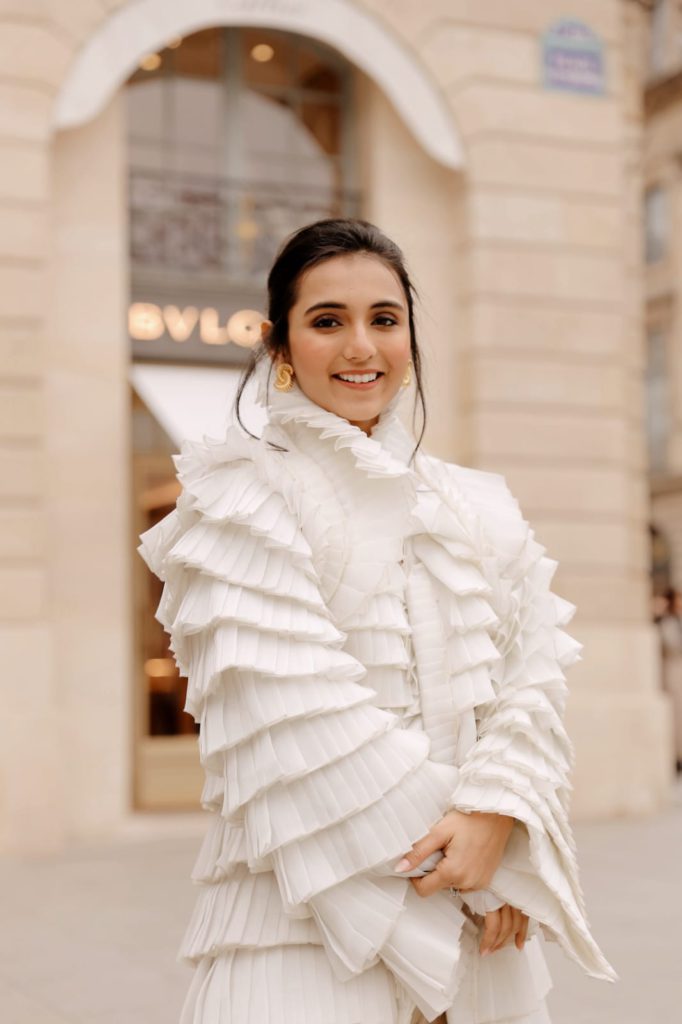 Makeup and skincare explored a range of topics including DIY masks, skincare tips, classic looks, and trends that got everyone talking. Katrina Kaif's fun beauty rapid fire revealed a whole lot more about the actress. Tamannaah Bhatia shared the perfect date night look and it's perfect for when you're strapped for time. We all love a good homemade face mask –– Masoom Minawala revealed her go-to concoction for glowing skin. Bhumi Pednekar broke down her morning routine and let us in on the one habit she never fails to miss, even when on shoot in a remote location.
Also read- 12 beauty tips for that immense bridal glow!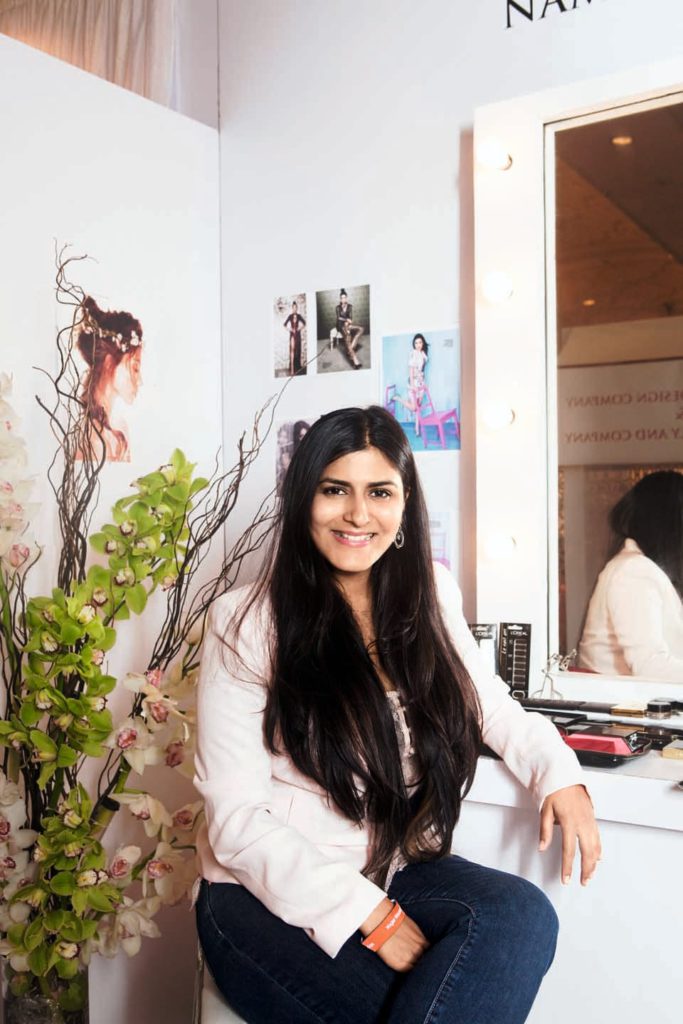 One of the days was purely dedicated to fitness, nutrition, and wellness. Fitness guru Namrata Purohit broke everyone into a sweat with her full body workout, while nutritionist Rashi Chowdhary discussed the various PCOS friendly foods that can help manage the hormonal condition.
When it came to hair, The Vogue Beauty Festival 2022 packed a whole lot of tips, tricks, and hacks. Diipa Khosla shared Ayurvedic hair care secrets and DIY remedies.
Recommended read- Holy grail skincare guide for monsoon
#VBF22 Awards
The grand finale of the beauty festival was concluded with the announcement of Vogue Beauty Festival 2022 Winners, selected by the jury and voted for by Vogue India's readers.
#VBF22 is different from its predecessors in more ways than one. Previously, the audience would vote alongside the jury, and voila! we would find ourselves a winner. This time, however, our selections are quite different. Instead of handing an extensive list of nominations, our jury of expert panellists made an unbiased selection of the top 5 in each category. They swatched, swiped, tested, buffed, blended, and spritz each and every product to ensure that the right decision was made. And then the floor was opened up to our audience, where they took their pick from the expert selects, voted for the best, and made their favourite go-to products win.
Here is the complete list of winners:
SKINCARE CATEGORY
From facial cleansers,body lotions to budget skincare products, this category has it all.
FACIAL CARE:
Daily Cleanser: iS Clinical: Cleansing Complex
Chemical Exfoliator & Toner: Biologique Recherche: Lotion P50 PIGM400
Daily Moisturiser: Sulwhasoo: Concentrated Ginseng Renewing Cream
Eye Cream: Fixderma Cosmetic Laboratories: FCL Eye Refining Matrix
Lip Balm/Oil: Laneige: Lip Sleeping Mask – Berry
Sunscreen: Cetaphil: Sun SPF 50 Gel
Face Oil: Kama Ayurveda: Kumkumadi Thailam
Niacinamide Serum: Paula's Choice: 10% Niacinamide Booster
Vitamin C Serum: Sunday Riley: C.E.O. Vitamin C Hydration Cream
Retinol Serum: Olay: Regenerist Retinol24 Night Serum
Mineral/Physical Sunscreen: Coola: Mineral Face SPF 30 Matte Cucumber
Chemical Sunscreen: Bioré: Aquarich Essence And Gel
Facial Sculpting Tool: Ohria Ayurveda: Face/Head Kansa Wand
SKINCARE PRODUCTS UNDER 700:
Cleanser: Cetaphil: Gentle Skin Cleanser
Toner: Kama Ayurveda: Vetiver Water
Hydrating Serum: Vaunt Skincare: Multivitamin Super Hydrator
Moisturiser: Cetaphil: Moisturising Lotion
Vitamin C: Suganda: Antioxidant Serum, 10% Vitamin C
Corrective Serum: Skinsigns: Hyperpigment Quad Serum
Sunscreen: Fixderma: Shadow SPF 50 Gel
Face Oil: Kimirica: Jojoba Oil
Daily Shampoo: L'Oreal Professionnel: Absolut Repair Shampoo
Daily Conditioner: Earth Rhythm: Conditioner Bar
BATH AND BODY:
Body Lotion/Cream/ Oil: Purearth: Mandarin Body Butter
Shower Gel/Oil: Ohria Ayurveda: Rose And Pomegranate Shower Oil
Body Scrub: AMINU: Sea Salt Body Scrub
Exfoliating Body Lotion: Suganda: Lactic Body Lotion Unscented
Natural Deodorant: Carmesi: Natural Deodorant
HYGIENE:
Facial, Body, Bikini Razor: Carmesi Razors
Menstrual Cup: Hey Day Reusable Menstrual Cup
HAIRCARE:
Well, who doesn't want those shiny luscious locks? This list of winners has the best of hair care products and tools. Switch to these daily shampoos and hair masks. There is something for all hair types.
DAILY WARRIORS:
Daily Shampoo: Earth Rhythm: Murumuru Butter Shampoo Bar
Daily Conditioner: Milk Shake: Moisture Plus Conditioner
Hair Spray/Texturiser: Ouai: Volume Spray
Serum: Kérastase: Elixir Ultime L'Huile Versatile
Hair Oil: Brillare: Hair Fall Control Oil Shots
BEST IN-SALON TREATMENTS:
Strengthening Treatments: K18 Treatment: Mist & Mask
Colour Protection: Schwarzkopf Professional: Fibre Clinix Radiance Blowdry powered with AHA
Deep Conditioning: Kérastase: Intensive Nourishing Experience Ritual
Hair Smoothening: Amazon Series: Cysteine
EXPERT STYLING SERIES:
Curly hair styling cream: Cantu: Avocado Hydrating Curling Cream
Leave in conditioner for curly hair: Arata :Advanced Curl Care Detangling Spray
Anti-frizz and shine spray: GK Hair: Dry Oil Shine Spray
Dry Shampoo: Juicy Chemistry: Plantain, Bamboo and Charcoal Dry Shampoo
Beach Hair: Schwarzkopf Professional OSiS+ Dust It – Mattifying Powder
Hair Detangler: pH: Hydrating Leave-in Detangler
Baby Flyaways: Slick Up: Anti Flyaway Hair Wand
Anti-Frizz: Schwarzkopf: Osis+ Magic Finish
HAIR TOOLS:
Hair Straighter: L'Oreal Professionnel: SteamPod 3.0 Steam Hair Straightener
Hair Curler: Ikonic Professional: Curling Tong
Hair Brush: Aveda: Wooden Paddle Brush Mini
Detangler Brush: Wet Brush: Pro Detangle
Hair Dryer: Dyson: Supersonic Hair Dryer
Hot Hair Brush for frizz: Alan Truman: The Blow Brush
Hot Hair Brush for straightening: Philips: StyleCare Essential Hair Straightening Brush
MAKEUP PRODUCTS:
When talking about makeup, who better to look up to than Vogue.This year's makeup awards has drugstore as well as high end products. Make sure you check them out!
Concealer: Too Faced Cosmetics India: Born This Way Super Coverage Multi Use Sculpting Concealer
Mascara: Mac Cosmetics India: Mac Stack Mascara
Brow Product: Nudestix: Brow Boost + Set Gel Xl
Kohl Pencil: Lotus Makeup: Ecostay Kajal
Lipstick: SUGAR Cosmetics: Air Kiss Powder Lipstick
Tinted Lip Balm: Dior Lip Glow Oil: 001 Pink
Nail Colour/Brand: OPI
Makeup Remover: Clinique India: Take The Day Off Cleansing Balm
Eyeshadow palette: Charlotte Tilbury: Pillow Talk
Foundation: Dior: Backstage Face & Body Foundation
Blush: Forest Essentials: Noor Nikhaar Cheek Tint in Gulaabi
Eyeliner: Kay Beauty: Eye Stylist Liquid Eyeliner
Also read- 5 light weight foundations that are perfect for any season
FRAGRANCES:
For the love of fragrances, these perfumes are for for all genders. The sensational Gucci Bloom also has a spot in the list.
Everyday: Twilly d'Hermès Eau Ginger
Unisex: Naso Tabac
Evening: Tom Ford Ombre Leather
Men: Dior Sauvage
Floral: Gucci Bloom
Teenage: Victoria's Secret Bombshell
NUTRITION SUPPLEMENTS:
If you are looking for an effective collagen supplement or a protein powder, here is a perfect list for you.
Vegan Protein Powder: Ace Blend Premium Plant Protein & Superfoods Nourisher
Protein Powder: Foodstrong Daily Protein
Protein Bar: The Whole Truth Protein Bar
Collagen: Skinglo Collagen Drink
BEST WELLNESS RESORTS
Wellness Resort (Domestic) – Six Senses Fort Barwara
Wellness Resort (International) – Soneva Soul
This list comprises of must try brands and products, make sure that you get your hands on them and let us know your take on them.